STS-133 Launch @ 4:50 pm EST from KSC.
By: CybrTeddy, 7:25 PM GMT on February 23, 2011
Good afternoon everyone! A rare non-tropical update from me. As a Floridian, I am absolutely proud of our space program and I felt the need to inform some viewers of what STS-133 is about! STS-133 is the final flight of Space Shuttle Discovery. You might recall that Discovery flew the return to Flight mission after the Challenger & Columbia disasters. Discovery is the workhorse of the shuttle fleet, flying its 39th and final mission tomorrow. Discovery preformed the first ever mission to retrieve a satellite from space on STS-51A in 1984.



On STS-26, Discovery returned America to space in September 1984 following the Challenger disaster. Discovery later flew several missions in the 1990's, launched and serviced the Hubble Space telescope, and sent American icon John Glenn back into space in 1998.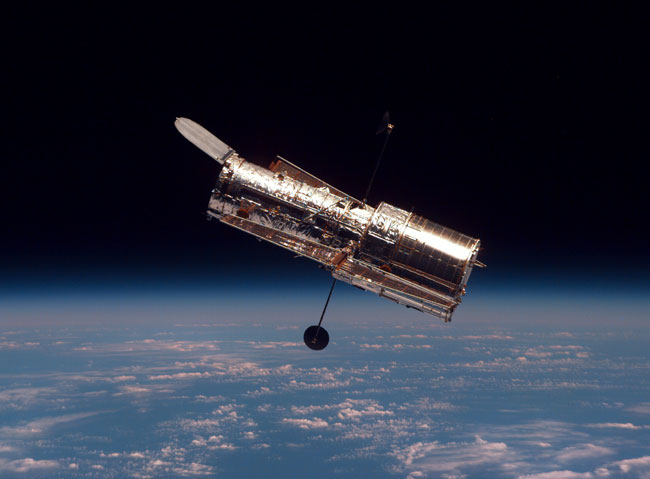 Discovery later returned America to space again after the Columbia disaster on mission STS-114 in July 2005, and flew the test mission STS-121 to the ISS on July 4th, 2006 the only shuttle to launch on Independence Day. Discovery brought the Harmony module to the ISS in 2007, and the Kibo module in 2008. Discovery finished the backbone of the Solar array system in 2009 and flew the final night launch in 2010. Discovery's final flight tomorrow will include a crew of 6.

Commander Steve Lindsey will fly his 5th flight into space. Lindsey was pilot for STS-95, the flight that Sen. John Glenn returned to space and was commander of the 3rd Return to Flight mission in 2006 after shuttles were forced to stand down for a year after STS-114 had a foam liberation event.

Pilot Eric Boe is flying his 2nd flight into space. He is a USAF Colonel and a graduate from the United States Air Force Academy. His first flight was on STS-126 in 2008.

Mission Specialist Benjamin Alvin Drew Jr will be making his 2nd flight into space. Drew is a USAF Colonel and a graduate of the United States Air Force Academy in 1984. His first flight was in 2007 on STS-118 which included Barbra Morgan, the 2nd teacher ever to ride a space shuttle.

Mission Specialist Stephen G. Bowen is making his 3rd flight into space. Bowen is the first astronaut ever to fly 2 consecutive flights into space, after Tim Kopra was injured in a biking accident last month. Bowen is the only astronaut to be a USN Submariner, having served on the USS Parche, USS Pogy, USS Augusta and finally on the USS Virgina before becoming an Astronaut. Bowen's first flight was on STS-126 in 2008 and the last shuttle flight in May 2010.

Mission Specialist Michael R. Barratt is making his 2nd flight into space and first aboard a space shuttle. Barratt is a flight surgeon who first flew aboard a Soyuz in March 2009 and served six months on the International Space Station.

Mission Specialist Nicole Stott is making her 2nd flight in space. Stott, a native of Clearwater FL, was an Engineer who worked on the Space shuttles before she was selected as an Astronaut in 2000. Stott's first flight was a part of Expedition 20 and 21, flying aboard STS-128 up and STS-129 down.

STS-133 will include two EVA's by Drew and Bowen. 133 will install the last American made module on the ISS, the PMM (formerly MPLM Leonardo) and ELC4 on the ISS trust segment.



Live KSC feed.



Launch is tomorrow afternoon at 4:50 from LC39A.

Go Discovery!
The views of the author are his/her own and do not necessarily represent the position of The Weather Company or its parent, IBM.
CybrTeddy's tropical weather blog
Previous Entries for 2019
Recommended Links