April ending as the signs of the season become more evident 4/25/11
By: CybrTeddy, 5:50 PM GMT on April 26, 2011
Good afternoon everyone and welcome to my tropical weather update for Tuesday April 25th, 2011. I was going to do an update a few days ago on a interesting little feature we had out in the Atlantic that actually had a good chance in my opinion of becoming Sub-Tropical Storm Arlene. Earlier, we had Invest 91L out there spinning and it actually got quite well organized before it ran into 60kt shear and virtually got torn apart. But I was actually quite impressed with the structure it had, was similar in nature to Tropical Storm Olga back in 2007 before heading into colder waters, and then it came back south into warmer waters but encountered way to hostile shear to have a good chance of development. However, its impressive to see that storms are wanting to already try to develop this early, and I honestly thing we will be dealing with Tropical Storm Arlene by May 25th or even earlier, but likely within the next 4 weeks.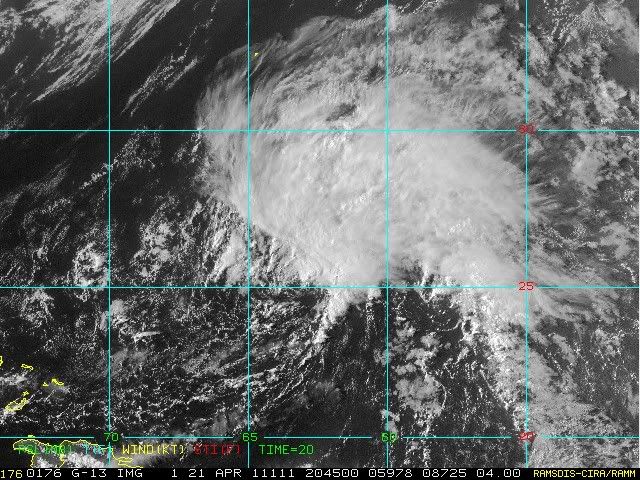 (Invest 91L at peak organization)

Anyways, another thing that I've been talking about that has continued to be impressive is the SST's (Sea Surface Temperatures) we've been witnessing the last few weeks. There are key differences between last year and this year, which to me atleast makes this year much more threatening. SST's to the north of the islands are much lower than what they were last year but they're much, much warmer in the Gulf of Mexico, Gulf Stream, and in the Bahamas. This is going to be key as we head into hurricane season. We might see much less in the way of Cape Verde activity and more in the way of homegrown systems and trough splits.

SST's April 25th, 2011.



SST's April 25th, 2010.



One thing we need to pay attention to again this year is the MJO (Madden–Julian oscillation). Last year, the MJO was seemingly stuck in our basin and for some reason nothing got going anywhere on Earth really in the month of July. Even in the Atlantic all we saw as a weak TD and a disorganized Tropical Storm that hit Florida. This year, I do not think that the MJO will be stuck in our basin like it was last year which could be key too what might play out. I think personally that we're going to see more storms earlier & much stronger in the July - Mid August time frame and they will grow from either the Western Caribbean, trough splits or from just east of the islands from the ITCZ. We might even see a Cape Verde hurricane in July - but given how rare that is I wont jump to that conclusion.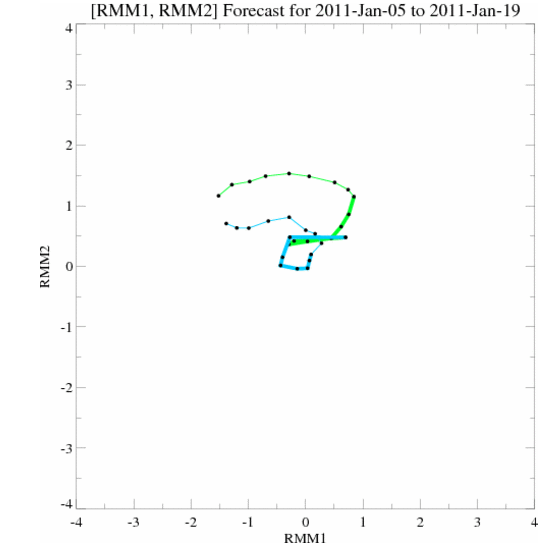 (MJO forecast valid until May 10th, 2011)

However, if there is a positive is that the TCHP this year is much lower than it was last year which means that hurricanes won't experience the amount of depth that they did last year. This might be a key factor in also determining were storms will go this year.

April 25th, 2011.



April 25th, 2010. Significant differences.



SST analysis from NOAA/NCEP



As usual, get prepared and get ready. We're only 36 days away now.

CybrTed
Spring arrives - what signals are in place for the hurricane season? 4/2/11
By: CybrTeddy, 3:23 PM GMT on April 02, 2011
Good morning everyone and welcome to my blog update for Saturday April 2nd, 2011. Today's blog will of course cover the continuing signs and signals emerging for the 2011 Hurricane Season. Since my last update a month ago regarding the hurricane season, as predicted the La Nina has continued to collapse and is now in the ''weak'' category. However, it does not appear at this time that the La Nina will collapse into a full scale El Nino, though it is interesting to note that the CFS has completely reversed its original thinking and now is on the warm side of neutral with the possibility of a weak El Nino developing in late summer. I do not think this will verify, given the way SST's are shaping up in the Pacific do not signal the return of an El Nino event, and if there is one it will not be on the scale of the 2009 and 2006 events but rather if anything similar to the 2004 and 2002 events.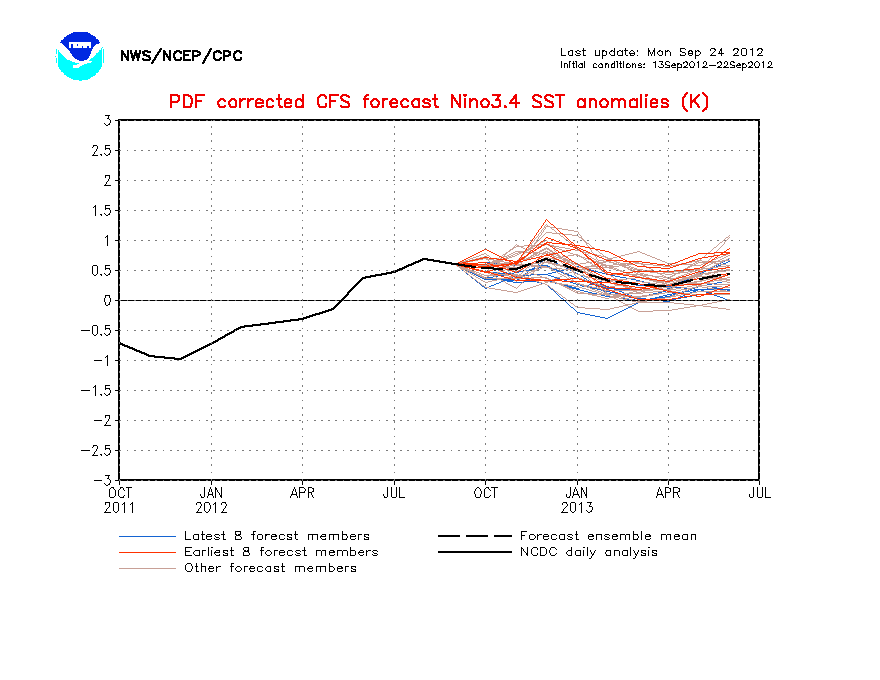 (CFS ENSO forecast - note that it does not go El Nino but stays warm neutral)

One thing that perked my interest when I checked the SSTs a few days ago was the way they were setting up in the Gulf of Mexico (GOMEX). Over the course of the week, Florida has been getting hammered by severe weather with over a dozen reports of tornado touchdowns and even more of straightline wind damage and thunderstorm related damage. This can be related to the SST's in the GOMEX being way more prudent that normal - they're already nearly 70% capable of supporting a tropical cyclone! SST's in the Gulf are higher this year than any year even 2005 in the last 10 years. The Caribbean too is also warming up significantly, last time I had an update it appeared the Eastern Caribbean was very cool - more cool than 2009 event this time but has since reversed significantly.



One thing to note in the Gulf is how warm the Loop current is right now for this time of year, it is probably the most prudent and obvious feature in the GOMEX on that SST map I just posted. As you may recall, the loop current was responsible for the intensifications of such storms like Katrina, Rita, ect. Fortunately, right now it appears all these SST's lack one thing - dept. TCHP is pretty bare across the entire Atlantic, especially compared to last year.


(2011)


(2010)

Just these two factors - SST's and ENSO patterns can give you a signal on if or if not the hurricane season will be active, though probably not on 2010 and 2005 levels, this season will probably be similar to 2008 in terms of activity and unfortunately track. I think what we're going to see is more storms, earlier in the season develop and be stronger and maintain that as we go along in the season. Like I said last update, in 2010 the season didn't get going until August were as 2008 for example got going in early July followed by a frenzy of named storms until November. I cannot say though for a fact the United States will be hit this year, we haven't had a major strike since Hurricane Ike fortunatly but how long can our luck last? The last major hurricane to hit the United States is still Hurricane Wilma in 2005 - could it be possible to have a 6 year drought in major hurricane landfalls for the good old US of A? Dean, Felix, Gustav, Ike, Paloma, Earl, and Karl all have made landfall as majors but none of them have seemed to strike the US at that intensity.

One more thing, looking at the shear too being well below normal in the Atlantic time of year (another major signal) I think its very possible that we will see our first named storm within 4-6 weeks of this update, sometime around May 9th I would venture to say.. perhaps even earlier. Don't take my word on that yet though.

Its always best to be prepared though, better safe than sorry as the old ways would put it. Be prepared before June 1st starts.

CybrTed

The views of the author are his/her own and do not necessarily represent the position of The Weather Company or its parent, IBM.
CybrTeddy's tropical weather blog
Previous Entries for 2019
Recommended Links