March predictions for the 2012 Atlantic Hurricane Season 3/12/12
By: CybrTeddy, 2:37 PM GMT on March 12, 2012
Good morning everyone and welcome to my second round of seasonal predictions for the 2012 Atlantic hurricane season! Since my last update, further parameters have come into play, as expected, and we are able to use those to now get a better scope of what hurricane season might have in store for us. These factors include SAL, SST's, and the ENSO. I will be attempting to provide you with my interpretations on what these mean.

African drought to cause the hurricane season to have less CV storms?
There has been a drought over Africa the past few months, and it has been keeping limit on the thunderstorms we normally see along the ITCZ this time of year. Dry air is choking any chance of instability to really get going, and it shows no signs that it will let up heading into hurricane season. This dry air has also been providing a cap on the Sea Surface Temperatures in the Western Atlantic.


(figure 1. Current image of the Saharan Air Layer over the Western Atlantic)



(figure 2. Satellite image of the ITCZ - notice the severe lack of convection for even this time of year.)

While it may only be March and we really still can't get a good understanding on how the SAL will shape out for the year, I believe that this year will see far less Cape Verde storms than what we saw in the years 2011 and 2010. This is not a saving grace, and we will probably see more situations like what we saw with Irene's development last year - strong waves get choked until they reach the 50W line, then they start to blow up giving the United States and the islands an increase chance of impact. Normally, if a CV wave develops by the islands and intensifies it will head out to sea. If it develops closer to the islands, it is less likely to do so.

How do Sea Surface Temperatures compare to previous years?
This year so far has had above average SST's, but not so much in the western Atlantic thanks to the SAL cutting down the SST's. However, the most noticeable thing this year is how warm the Gulf of Mexico is. We've all heard about how insane the tornado season has already been, and we know that warmth and instability feeds these tornado outbreaks partly because of the Gulf of Mexico's sea surface temperatures. We have already seen April and May style outbreaks in February in March. SST's in the GOMEX are insane this year - thanks to the above average winter the SE US has seen.


(figure 3. Sea Surface Temperatures (SSTs) so far, notice the incredible warmth for this time of year in the GOMEX, higher than any year in the last 7 years)

This leads me to the prediction that tropical waves, which are being limited by the SAL that are already traveling west, once they or if they reach the GOMEX, they will have no trouble quickly developing into a major system. This was seen for example in 2009, with Tropical Storm Claudette. Home grown systems will be a real threat this year, as they will be traveling closer to home and have room to develop in the warm temperatures of the Gulf or the Caribbean.

So, is this year going to be an El Nino, or a La Nina?

The last two years have both featured La Nina events, both of those seasons saw 19 named storms and had an EPAC season that was very inactive. However, the only hurricane to hit the United States in the last two years was Hurricane Irene. This year looks like it will be warm-neutral or possibly a weak El Nino come hurricane season. However, even if a El Nino does form, it's atmospheric effects will generally take a while to take shape thanks to the cold PDO event, and it will not stick back long and more than likely will head into a cool-neutral come the end of the year.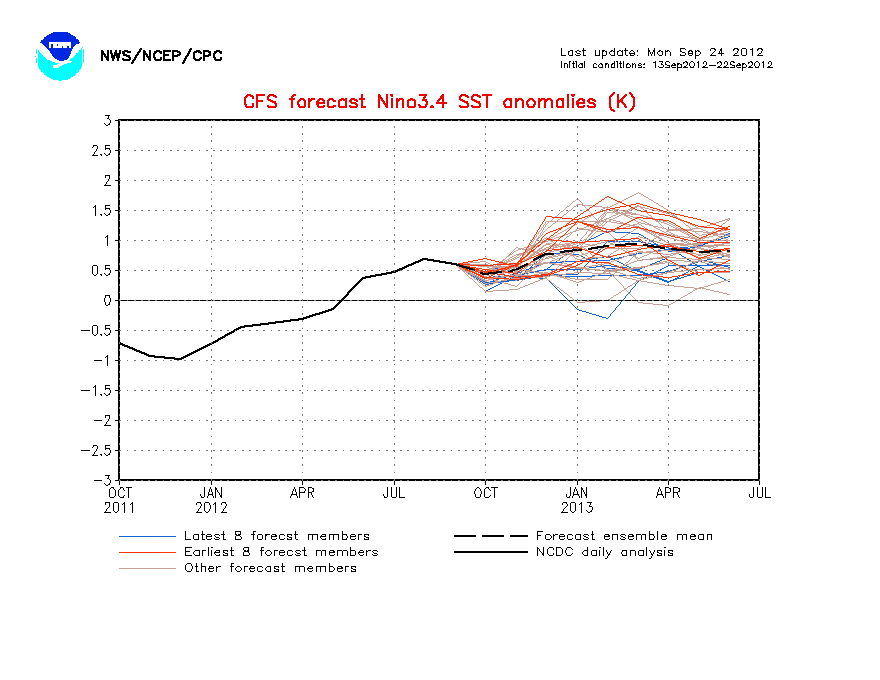 (figure 4. ENSO predictions currently)

Prediction and summary.
The main threat this year will be tropical waves, which are weakened by the SAL that will travel more westward, taping into the warm waters of the Western Caribbean or Gulf of Mexico and rapidly developing into major systems. I believe that homegrown development is what we have to look out for this year, and that the Cape Verde season will be limited compared to 2011 and 2010. Regardless, this is only March and the conditions could very well change but right now I do not think this hurricane season will feature as many named storms as the last two have, but could even if the parameters are right, be much more memorable.

13 named storms.
6 hurricanes.
3 majors.

I will post my next update on May 31st, 2012. Get prepared now! We are only 80 days away from the start of the 2012 Atlantic Hurricane season.

CybrTed
The views of the author are his/her own and do not necessarily represent the position of The Weather Company or its parent, IBM.
CybrTeddy's tropical weather blog
Previous Entries for 2019
Recommended Links