2012 - The Year in Review, Volume I: Alberto - Debby.
By: CybrTeddy, 5:48 PM GMT on November 27, 2012
2012 - The Year in Review


Good afternoon and welcome to my Year in Review. This hurricane has been by all accounts deadly and destructive. As it stands right now, the final totals are 19-10-1 (subjected to change during post-season analysis) this once again ties us for the third most active hurricane season with 2011, 2010, 1995, and 1887, with 320 fatalities, 180 of those being in the United States. This season is the second most destructive on record, with an estimated 68-70 billion dollars in damages. Most of these were from Hurricane Sandy, which was the second most destructive hurricane ever strike the United States, only behind Hurricane Katrina.

The first seasonal prediction was released on December 7th, 2011 from the Colorado State University, or CSU, predicting that we would see a less active hurricane season than in 2011 and 2010, forecasting 14 named storms for the season. This was due to what appeared to be the likely onset of a moderate El Nino event, causing stronger trade winds in the Caribbean, increased Saharan Air Layer in the main-development region (MDR), increased amount of troughs off the eastern United States, and finally cooler sea-surface temperatures across the majority of the Atlantic. Further estimates from the WSI, TSR, TWC, NOAA, and the UKMO revised these estimates even lower, to around 10-11 named storms. It appeared at the onset of the season, we would see a repeat similar to that of the 2009 Atlantic Hurricane season.

(figure 1. Progression of the ENSO throughout the year)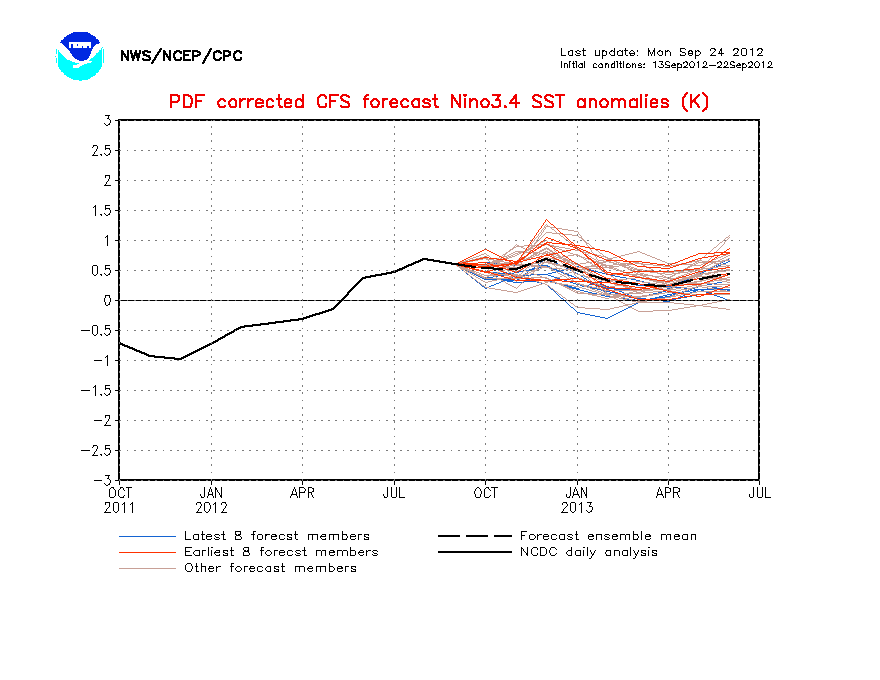 The season started unusually earlier than usual with the formation of Tropical Storm Alberto. A non-tropical area of low pressure associated with an upper level low developed off the coast of the United States and became gradually better organized over the next few days over the warm waters of the Gulf Stream. The National Hurricane Center issued its first advisory on Tropical Storm Alberto at 2100UTC, May 19th, 2012. Alberto's formation marked the earliest tropical cyclone to develop since 2003's Tropical Storm Ana, and the first named storm to develop in the month of May since Tropical Storm Arthur in 2008.


(figure 2. Alberto at the time of its classification)

Around 2250UTC of the same day, a near by ship discovered that Alberto was stronger than originally thought, and peak winds were upped to 60 miles-per-hour shortly there after. It wasn't long for dear old Alberto, by the next day Alberto experienced heavy southwesterly wind shear, and dry air intrusion, and dissipated on May 22nd, 2012.

Shortly there after, on May 23rd, an area of disturbed weather began to develop in the Caribbean and gradually moved towards Florida. This system began to take on a more hybrid look as it crossed Cuba and Florida, and was more sub-tropical than tropical, but became better organized on the 25th. Advisories on Subtropical Storm Beryl were issued on 0300 UTC, May 26th, 2012.


(Figure 3. Subtropical Storm Beryl at the time of its classification)

Beryl faced similar conditions to that of Alberto the week before, however because of it's more non-tropical characteristics, it was able to fight off shear and dry air, while remaining subtropical in nature. That being said, it was predicted Beryl would become fully tropical as it approached the coast of Florida. On May 27th, as the storm approached the coast of Florida, it was upgraded to Tropical Storm Beryl at 1800UTC. As Beryl passed over the warm shelf waters off the coast of Florida, Beryl began to suddenly intensify. As Hurricane Hunters went through the core of Beryl late on the 27th, maximum sustained winds were clocked at 73mph, and flight level winds were clocked to a maximum 94mph. Though it was not considered so, and hasn't been yet, it is possible that for a short period of time, Beryl became the first hurricane of the season.


(figure 4. Beryl at peak intensity)

Beryl made landfall at roughly 0410 UTC on May 28th, 2012 as a 70mph Tropical Storm. Disorganization was noted as Beryl approached the coast, so even if Beryl achieved hurricane status, it was more than likely not a hurricane when it hit Jacksonville, Florida that day. Further weakening was evident and the storm eventually dissipated on May 30th, 2012, two days before the official start of hurricane season. Beryl's formation was notable because it was the first time since the 1908 Atlantic Hurricane season that two named storms had developed before the official start of hurricane season, which put us on a fast head start for an active year.

It would be two weeks until our next named storm began to develop, a non-tropical area of low pressure developed by Bermuda on June 17th, 2012. Late in the day on June 19th, the area of low pressure was deemed tropical and well organized enough to be considered Tropical Storm Chris, the 3rd named storm of the season. It was deemed unlikely though that much strengthening would take place, dubbing many to claim that the curse of Chris had struck again. However, early on the 21st of June, it managed to strengthen into Hurricane Chris, the 1st official hurricane of the season. This only lasted for one advisory though, as strong wind shear began to overtake Chris. Chris became extra-tropical on June 22nd, 2012.


(figure 5. Hurricane Chris at peak intensity)

While Chris was out in the Atlantic, in almost perfect echo with the double punch of Alberto and Beryl in May, an area of disturbed weather began to develop in the Caribbean. It gradually developed and became Tropical Storm Debby in the central Gulf of Mexico by 2100UTC, June 23rd, 2012.


(Figure 6. Debby at the time of its formation)

Debby was a very tricky system to forecast. A ridge to the north of Debby was causing the storm to not go north, instead it was stationary in the Gulf of Mexico, drifting around in no real direction. It appeared at the time of formation that Debby would head westward, towards Texas and strengthen into a hurricane. However, there was also a trough dipping down to the United States, that was tugging Debby more westward. This was a classic case of model v. models. Half the models, most noticebly the European ECMWF, were stating that Debby would go to Texas under a ridge. However, the GFS, GFDL, and other models were thinking that the storm would move eastward, over Florida, and take on more non-tropical characteristics as it began to merge with a front. The latter turned out to be true, due to timing. Debby made landfall in Steinhatchee, Florida on June 26th, 2012 as a 40mph tropical storm, drenching parts of Florida in the process. Debby was declared post-tropical as it moved over the coast of Florida on June 27th.

Later this week I will be reviewing Hurricane Ernesto - Leslie, in part of the August suite. A week after that, a review to Michael - Patty will be posted. My final review will be posted on the 16th of December, and will be entirely dedicated to Hurricane Sandy's formation and aftermath in the United States, with a mention of Tropical Storm Tony in there. During the review, I will be discussing what factors, such as global warming, may have effected Sandy's incredibly destructive impact on the United States, and I will also be discussing what could have been done differently to prepare for Sandy.

CybrTed
The views of the author are his/her own and do not necessarily represent the position of The Weather Company or its parent, IBM.
CybrTeddy's tropical weather blog
Previous Entries for 2019
Recommended Links