Pirate Day Blog!
By: FLCrackerGirl, 5:54 AM GMT on September 19, 2006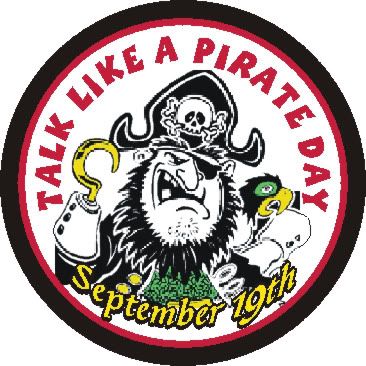 ARRRRrrr! "TALK LIKE A PIRATE DAY!" is SEPTEMBER 19TH!
This Holiday Parody was created in 1995 by
John "Ol' Chum Bucket" Baur and Mark "Cap'n Slappy" Summers
so that everyone can embrace their Inner PirAttitude
& Talk Like A Pirate! (Costume Dress is Optional!!).

The Holiday Gained International Exposure when Humorist Dave Barry
Wrote About The Celebration in His Syndicated Column in 2002.

Join The High Seas Antics Today Even If Ye A Landlubber!
Be Welcome To Nail Ye POSTers to Da Tall Mast Below!
(translation: Post Anything PIRATE here!)

No Treasure Maps Needed for This Booty...

Pirate Speak Glossary

English-to-Pirate Translator

Bonnie Lass Pirate Name Generator for Her
Scurvy Dog Pirate Name Generator for Him

Pirate Personality Test

Even More Pirate Linkage & Talk Like A Pirate Blog Found Here!

Tis Aint Da Scalywaggs of the Black Pearl...
TIS BE DA CUZIN'CREW!!! (aka my nieces, nephew & Youngest Brothers)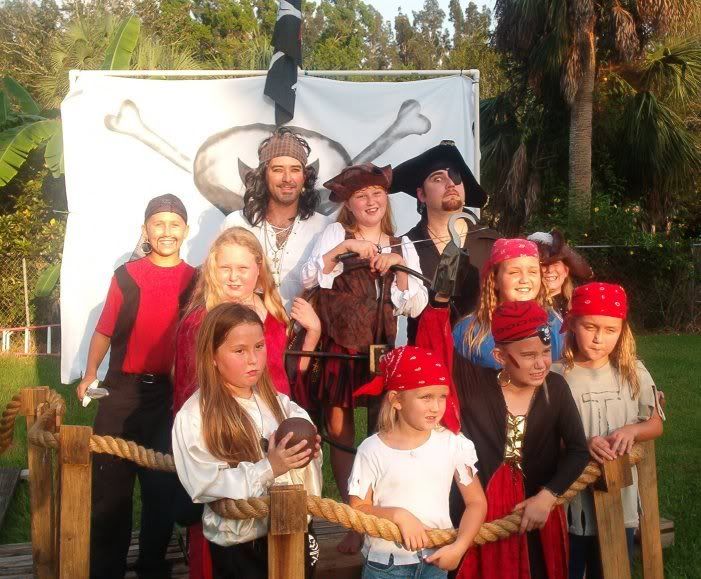 Photos from My Wee Buccaneer Niece's Birthady Bash

Wanted Dead or Alive!
Capn Jack Sparrow(left), Buccaneer Lane O'Geara(center) & The Dread Pirate Roberts(right)


..........

Thanks Les & Wabit !!
By: FLCrackerGirl, 8:57 PM GMT on September 11, 2006


~~~~~~~~~~~~~~~~~~~~~~~~~~~~~~~~~~~~~~~~~~~~~~~~~~~~~~
Les O'FieldStream is A Code GOD!!! U So ROC!!
Not Only Did He Write A Very Interesting & Thorough Blog
Entitled "Header Image Solutions" a Short Time Back,
But Was SO Generous to Also Send Personalized Code Fixs
with Step-by-Step Instructions To Many Here In The WU Community.
(An Image in A Blog Header interrupts the RSS Feeds
Unless Coded Slightly Differently).
Thanks Sooo Much Les for Your Help & Efforts!

Thanks Too WhiteWabit for Helping Me De-Bug My BOLDed Out Blog Comments.
Some Dangling Code Left My Last Blog Lookin' Silly & Pretentious. LOL.
Wabit You Have The Patience of A Saint O:)!!
~~~~~~~~~~~~~~~~~~~~~~~~~~~~~~~~~~~~~~


SUGGESTED LINKS: Click on Pic For Linkage

.......
.......

..........



All Products at WUBAWEAR are Available for Purchase.
Make Sure To Check Out The BEST SELLERS Page which includes
T-Shirts, Buttons, WUBAGLUE™ & WUBATAPE™.

The views of the author are his/her own and do not necessarily represent the position of The Weather Company or its parent, IBM.
FLCrackerGirl's WunderBlog
Previous Entries for 2019
Recommended Links