HAARP is NFL Picks Winner
By: FLCrackerGirl, 5:27 AM GMT on December 10, 2006

HAARP is NFL Picks Winner of the Sweatshirt.
He won 3 weeks: Weeks 4,11,13.
He also played the most consistent out of all of the winners.

His Award will be This Attractive Sweatshirt will be Embroidered with WUBA Hurricane Crab Troop Logo
& Back Printed with 2006 WUnderground League Champion.

Thanks To Raysfan70 for Hosting & Everyone Who Participated Your Sportsmanship & Comradery Prove WUnderground is The Best Site On-Line for Both Weather & Sports.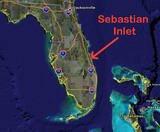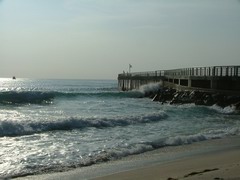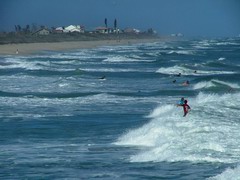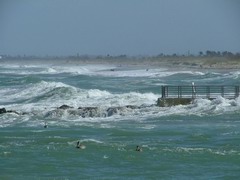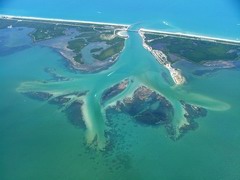 WEBCAMS INSTALLED AT SEBASTIAN INLET
By ED BIERSCHENK TCPalm.com

Visitors of www.sebastianinletcam.com can view 30 seconds of streaming video along the north jetty and the beach to the north of the jetty, which are updated hourly. There are panoramic views of each side of the inlet regularly updated, along with temperature, wind and tide conditions.

The site has been in operation for about two weeks. The initial cost for the equipment and installation was about $11,000 and will cost about $400 per month to maintain. The webcam will be part of the new Sebastian Inlet District Web Site.

WWW.SITD.US will have information about various projects the district is working on and daily fishing updates for the inlet. The District has an offshore wave gauge and plans to have information about wave heights, currents and water temperature on the inlet WebCam site.

Phone Line Connections currently limit the picture size, quality and frequency of the streaming videos. These features will be improved with an upgrade to a broadband wireless connection, which should be in place within the next few months. Instead of updating the streaming video every hour, updates could take place about every minute.

Other Sebastian WebCams (Sponsored or Fee Serviced):
www.surfline.com
www.surfguru.com
www.ronjons.com
The views of the author are his/her own and do not necessarily represent the position of The Weather Company or its parent, IBM.
FLCrackerGirl's WunderBlog
Previous Entries for 2019
Recommended Links