Alberto Predictions on WG03

51 Days Until The Official Start of The 2006 Hurricane Season!
OR Will It Be Sooner??!!!
Check Out the Predictions Of Alberto's Formation Date onWeatherGuy03 BOB's Blog

Blogger Who Predicts The Correct Date of
Alberto's Formation Will Win A FREE
T-shirt & Bragging Rights for the Rest of The Season!!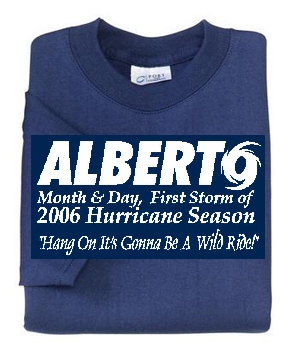 Seriously, A REAL (Not Virtual) T-SHIRT!!
T-Shirt To Be Customized with "Official NHC Day & Date" whenever that might be....

Let's Hope Alberto is Just A Fishie Storm!


..................

BTW This Is Where Vero Beach Is Located............................... ♥♥ LOVE the LURKERS ♥♥
The views of the author are his/her own and do not necessarily represent the position of The Weather Company or its parent, IBM.
Reader Comments
FLCrackerGirl's WunderBlog
Previous Entries for 2019
Recommended Links