Tropical Depression 5 Aimed at the Lesser Antilles
By: MississippiWx, 7:06 AM GMT on August 02, 2012
Well, I had a lot of thoughts I wanted to share about TD5, so I'm making a blog for the first time in a year or so. I'll probably be a little rusty, but I digress.

Thursday, August 2, 2012

Current Conditions

Tropical Depression 5 is moving swiftly to the WNW at an estimated motion of 16kts and is currently on a beeline for the Central and Southern parts of the island chain. The current depiction of TD5 on satellite is very poor and resembles an open wave more than a tropical cyclone. However, if you look closely on shortwave imagery, it's easy to see that the low level circulation is still in tact. A trough extends to the southwest of TD5 and I'll explain more about it later. A large upper level low is still imparting westerly to west-southwesterly shear over TD5 which is also helping it to ingest some dry air in the mid-levels.

TD5



The biggest inhibitor to further strengthening, in my opinion, has been a small trough to the southwest of the circulation that refuses to depart from TD5. It is easily seen on 850mb maps and on satellite loops. You can even depict a weak circulation off the South American coastline at the tail-end of the trough. This trough appears to be inhibiting the inflow into TD5, causing disruption of surface convergence near the center.

850mb Vort Map




As you can see below, surface convergence is very poor and spread out (if you read this entry in the morning it might have improved by then lol!).




Until the aforementioned trough departs completely from TD5's circulation, I believe it will have trouble focusing convection completely over its center. I believe that by tomorrow, TD5 should be rid of the pesky trough and have a better opportunity to strengthen as it heads at the islands.

Intensity Forecast

My overall strength forecast is very uncertain. A lot depends on how TD5 enters the Caribbean. The 00z GFS and Euro are still adamant about opening TD5 into a wave until it reaches the Western Caribbean. After that, conditions should be favorable to very favorable for intensification. I see 2 possible scenarios. The first is that TD5 reaches the islands as a 45mph TS and strengthens gradually throughout the Caribbean. By the time it reaches the longitude of Jamaica, it should be near minimal hurricane strength and entering an area very favorable for intensification. At this point, I could see a Cat 2 hurricane. My second scenario basically follows the GFS/Euro on opening the TD back into a wave until it reaches the Caribbean. Afterwards, I think it strengthens into a moderate TS before running into the Yucatan. Still a lot of questions left to be answered as always with weak and new systems.

High TCHP values lie ahead, especially in the W Caribbean:




Track

The track forecast for TD5 is fairly straight forward for the 5 day period. There will most likely be some fluctuations north or south, depending on strength of the system. However, a track just south of or over Jamaica seems most likely. After that, models diverge a good bit, as expected. The GFS/Euro still take TD5 basically WNW throughout its entire lifespan, eventually making a final landfall in Mexico or extreme South TX. This is currently my forecast as I have looked into the analogs for the 8 day 500mb heights and the storms that were near TD5's forecast track went on this path. One storm is Major Hurricane Charlie from August 1951. It took a very similar path to TD5's current forecast track. It eventually made landfall in Mexico. If you notice how strong he was, that strength did not make a difference on him being pulled to the north any as he stayed the WNW course.




Another analog is Hurricane Dolly from 1996, one that could be very similar to the strength of possible Ernesto in the same location. Once again, straight WNW across the Yucatan into MX.




Therefore, I think you get my forecast. Of course, things change and these analogs are based off the GFS predicted 500mb pattern 8 days in advance, not any other models. However, we know the GFS's track record so far this year and this time the Euro is in pretty good agreement for being so far in advance. This is my forecast for now. Just remember that things change and if forecasting long range tracks were as easy as finding analogs, then it would be a lot easier to warn people.

GFS 500mb Analog Composite: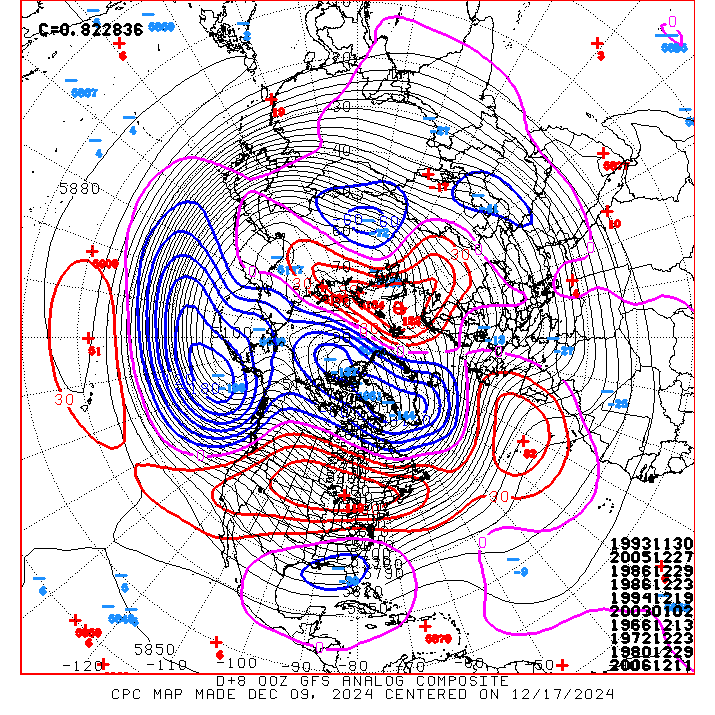 Thanks for reading. It will be interesting to see what verifies!
The views of the author are his/her own and do not necessarily represent the position of The Weather Company or its parent, IBM.
MSWx's Tropical and Local Corner
Previous Entries for 2019
Recommended Links