2012 Atlantic Hurricane Season Birdseye Discussion #30
...JUNE 17 2012...8:35 PM EDT...
Bermuda impacted by storm with characteristics of a subtropical cyclone. However...because the low-level center (LLC) was not well-defined...it did not meet the meteorological criteria to be a named storm or numbered depression. See special feature section for further details.

Still watching for threat of tropical cyclone formation beginning June 20 in the Bay of Campeche and western Gulf of Mexico region...although I am becoming increasingly skeptical of how favorable the upper winds will be to allow this. See paragraph P11 for further details.

...ATMOSPHERIC FEATURES BIRDSEYE CHART...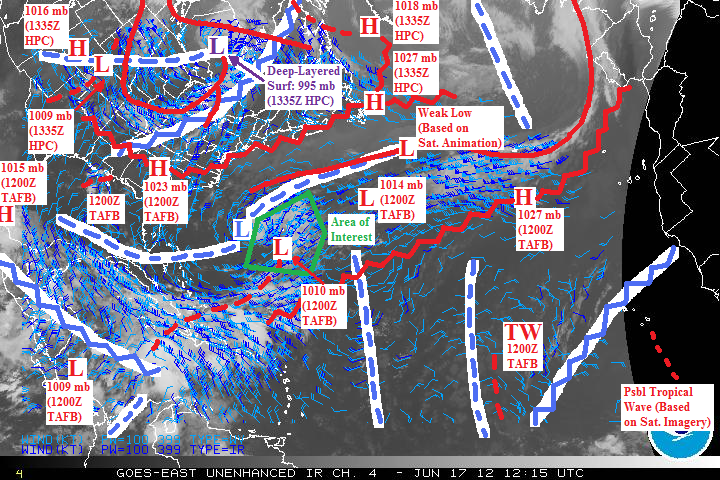 This chart is generated based on surface analysis from the National Hurricane Center TAFB at 1200Z, and the 1335Z-released HPC analysis.

In light blue is upper air anlaysis, with 200 mb wind barbs calculated by GOES satellite imagery showing the upper-level wind direction. Based on the 200 mb wind barbs, blue-dashed lines are locations of upper troughs, blue-zig-zag lines are locations of upper ridges. Blue Ls are locations of upper lows, blue Hs are locations of upper ridges.

In red is surface analysis, with solid lines indicating locations of surface fronts, dashed lines indicating locations of surface troughs, and zig-zag lines indicating surface ridge axes. Ls indicating surface lows, Hs indicating surface highs.

...THERMODYNAMICS BIRDSEYE CHART...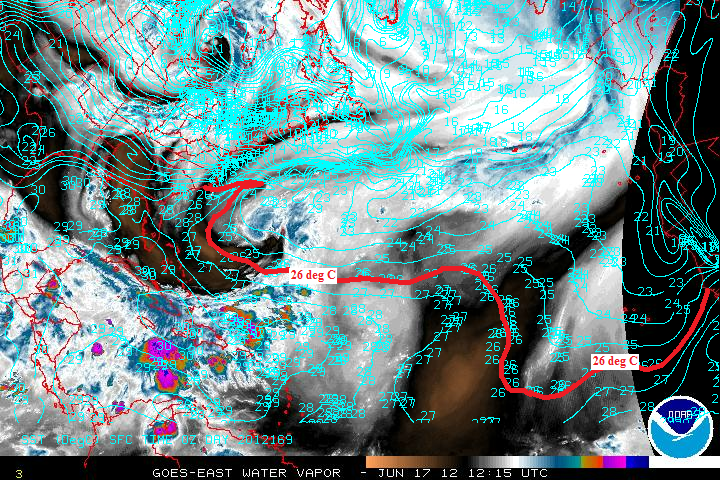 This chart is generated using GOES water vapor satellite imagery. Brown indicates dry air. White, blue, and purple indicates moist air. An increase in moisture indicates slower air parcel lapse rates with elevation and hence an increase toward instability.

Sea-surface temperatures are overlaid with light blue isotherms. The 26 deg C isotherm is highlighted in red. Waters at and south of the 26 deg C isotherm indicate low-level warmth and hence faster environmental lapse rates with elevation (more instability). Waters north of the 26 deg C isotherm indicate slower environmental lapse rates with elevation (less instability).

...SPECIAL FEATURE...BERMUDA SUBTROPICAL LOW...
See paragraph P3 in the mid-latitudes discussion for how this subtropical surface low developed. If we had paid closer attention to the computer model scenario briefly mentioned in previous discussion #26 (towards the end of paragraph P6)...we may have caught and better forewarned this scenario. Disucssion #26 paragraph P6 had briefly mentioned a cut-off upper vortex with surface subtropical-to-tropical development off the SE US by June 18. Indeed...we have a cut-off upper vortex in this region and located W of Bermuda...whose NE peripheral upper divergence triggered surface subtropical development over Bermuda as explained in paragraph P3 of today's mid-latitudes discussion.

Here is a timeline of the situation that rapidly developed over Bermuda today:

(a) By 1200Z...the NHC TAFB analysis shows the surface subtropical low as an elongated feature with a 1010 mb center over the island and 1014 mb center ENE of the island...as shown in the above birdseye charts as well.

(b) Shortly thereafter...radar imagery from the Bermuda Weather Service (Figure 1a) shows a well-defined low-level circulation (LLC) very close to the island. Correspondingly...observations from Hamilton International Airport (Figure 2) shows a rapid pressure drop to 1006 mb as if the central pressure is lower than the 1200Z TAFB analysis. Sustained winds rise to just below tropical storm force...with gusts well into tropical storm force...as the tight LLC in Figure 1a passes over. The rise in winds is possibly due to the tight pressure gradient of the small-sized LLC.

(c) Not long after...the tight LLC in Figure 1a is just east of Bermuda by Figure 1b...but is becoming absorbed into a much larger and broader LLC well east of Bermuda. Because the newer and broader LLC in Figure 1b does not have a sharply defined swirl in visible sat imagery...and because there is no steady LLC location (radar images in Figures 1a and 1b are less than an hour apart)...it appears this system is elongated SW-NE at the surface with multiple LLCs possible. Without a single well-defined LLC...this system cannot be upgraded to a named storm or numbered depression despite the observed impacts to Bermuda.

(d) By 2000Z...we still struggle to find a well-defined LLC. The best guess of an LLC based on satellite organization is marked in Figure 1c...while the 2000Z ASCAT pass shows the nearest LLC signature to the east of the satellite fix! The nearest ASCAT LLC signature also shows an SW-NE elongated LLC.

(e) Newer 1800Z TAFB analysis from the NHC shows the low down at 1005 mb...which better matches the pressure observations from Bermuda.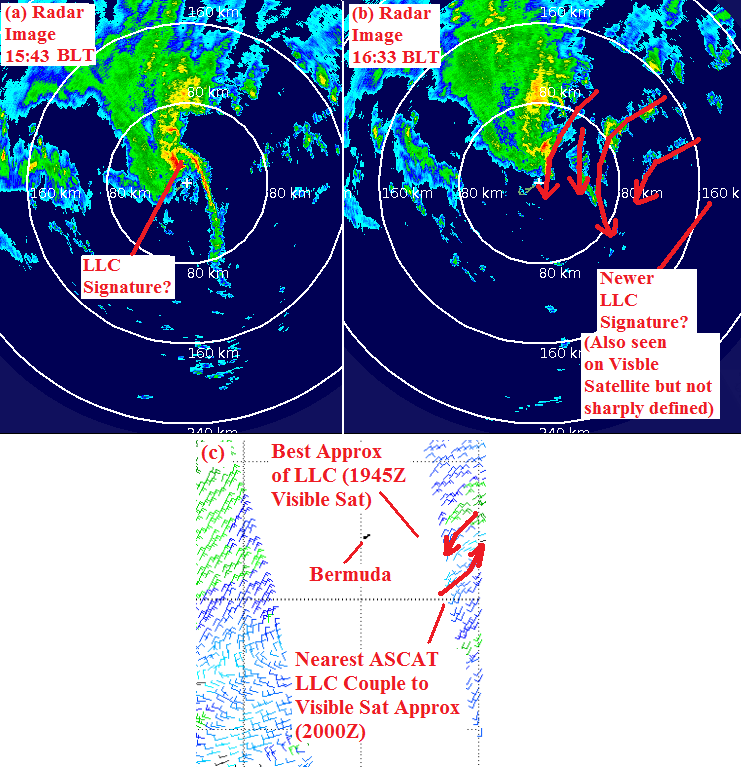 Figure 1: (a) and (b) are radar images from the Bermuda Weather Service. (c) is an ASCAT pass in the vicinity of the surface subtropical low that shows satellite-calculated surface wind speed and direction. BLT means Bermuda Local Time...Z means Zulu time.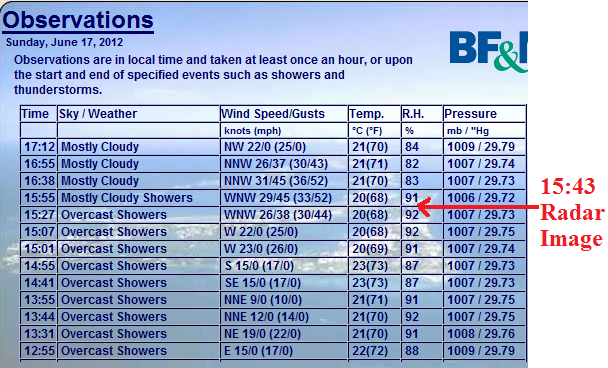 Figure 2: Screenshot of surface observations at Bermuda's Hamilton International Airport for June 17, 2012. Notice the most significant winds and pressure drops occur during the passage of the LLC signature shown in Figure 1a.

Looking ahead...the most recent observations in Figure 2 show improving weather conditions for Bermuda (slower winds...no rain) as this subtropical surface low pressure system departs to the NE. The end in rainfall is due to Bermuda becoming caught in the system's dry slot. The dry slot is caused by the circulation swallowing dry...sinking air from the adjacent eastern convergence of the upper ridge in paragraph P2 below. Without a well-defined LLC in ASCAT passes or satellite imagery...with dry air ingestion...and with the system tracking NE toward cooler water...I do not expect this to ever be a named or numbered subtropical cyclone. Prognosis is to keep watching sat imagery and ASCAT passes...and if it shows signs of becoming a better-organized subtropical cyclone...I will write a special update.

...MID-LATITUDES DISCUSSION...
P1...First Canadian frontal cyclone (over Hudson Bay) and it supporting upper trough have fizzled. Second Canadian frontal cyclone and its supporting upper trough are showing towards the upper-left of the above birdseye charts. Its surface 995 mb center (located over south-central Canada) has whirled beneath its upper trough such that it is currently deep-layered. Third Canadian frontal cyclone (located over SW Canada) is about to enter the above birdseye charts from the upper-left. A fourth Canadian frontal cyclone will enter the arena by June 20.

P2...Upper ridge over the eastern US has recently further amplified ahead of second Canadian frontal cyclone mentioned in paragraph P1...and is expected to be amplified for a few more days as the third and fourth Canadian frontal cyclones supply supportive warm air advection ahead of themselves. The upper ridge's eastern convergence continues to support a strong surface ridge. This strong surface ridge currently has a 1027 mb center offshore of Newfoundland and 1023 mb center over the SE US.

P3...Upper trough over the W Atlantic and Gulf of Mexico persists. Due to the amplification of upper ridge in paragraph P2 above...its Gulf portion is pushed further south...and the Atlantic portion has amplified to the degree that it now has a cut-off upper vortex W of Bermuda. N Gulf of Mexico surface trough once supported by this upper trough's divergence is just offshore of Louisiana while bringing some scattered showers/t-storms to the area. Divergence maximum on the NE corner of upper vortex W of Bermuda has caused the surface 1009 mb low near Bermuda to intensify into a subtropical surface low over the island in the last 24 hours. In the above birdseye charts...it is a fairly elongated feature marked with a 1010 mb center over Bermuda and 1014 mb center well ENE of Bermuda. See above special feature section for more details on this elongated subtropical surface low.

P4...Upper trough in Greenland's vicinity has been absorbed into NE Atlantic upper trough mentioned in paragraph P7 below.

P5...Upper vortex in NW Atlantic has been absorbed into upper trough mentioned above in paragraph P3.

P6...Surface 1027 mb ridge center S of the Azores persists. From what I can gather from the latest 200 mb upper winds...it is now supported as upper southerlies from E Atlantic upper ridge (paragraph P10) converges with upper westerlies from NE Atlantic upper trough (paragraph P7).

P7...Upper trough persists in the NE Atlantic...with divergence ahead of the trough supporting a surface front stretching from W Europe to the Azores. Briefly during 1200Z TAFB and 1335Z HPC analyses...this front was extended from the Azores into the NW Atlantic...perhaps to mark the divide between cooler air from the 1027 mb ridge in paragraph P2 and warmer air from the 1027 mb ridge in paragraph P6. Along this front's extension...a weak surface low was seen spinning on visible satellite to the ESE of Newfoundland.

...TROPICAL BELT DISCUSSION...
P8...Upper ridge over W half of the Caribbean persists. Various cloud cover and t-storm activity induced by the outflow of this upper ridge persists across the Bay of Campeche...SE Mexico...Caribbean...and Central America. The strongest of this activity (towards Jamaica..E Cuba...Hispaniola...and Puerto Rico) is located where northerlies across this upper ridge heavily diverge with westerlies from the paragraph P3 upper trough. A surface trough has become associated with this upper divergence and heavy activity...which is a southward extension of the Bermuda subtropical surface low mentioned in paragraph P3 and today's special feature section.

P9...NE Caribbean upper trough has shifted east to the waters E of the Lesser Antilles.

P10...Upper vorticity in E tropical Atlantic has now concentrated into an inverted upper trough in the central tropical Atlantic...and could very well merge with upper trough in paragraph P9 above. In the far east Atlantic towards the W coast of Africa...an upper ridge is expanding...an effect due to relatively higher pressures south of the NE Atlantic upper trough mentioned in paragraph P7 above.

P11...24 hrs ago...a tropical wave was marching across the east Caribbean...and t-storms flared up in the Colombia-Panama area...triggered by split upper flow (between easterlies SE of the W Caribbean upper ridge of paragraph P8...and westerlies SW of the paragraph P9 upper trough). The split upper flow triggered a new 1009 mb surface low in the last 24 hours..and the aforementioned tropical wave has merged with it. Paying attention to this 1009 mb low as it appears this is what the models have been spinning up into a Bay of Campeche tropical cyclone around June 20. Challenges this system faces along the way will be land interaction with Central America/SE Mexico and vertical shear by the Gulf of Mexico upper trough (paragraph P3 above). I have become skeptical of tropical cyclone development as the Gulf upper trough shifted south (see paragraph P3 for why this south shift occurred)...which has increased unfavorable northwesterly vertical shear where this tropical cyclone is supposed to spin up. However...models still insist that the disturbance's latent heat release will feed the W Caribbean upper ridge such that the upper ridge expands and pushes out the shearing Gulf of Mexico upper trough. Where this possible tropical cyclone ends up tracking depends on the strength of the eventual fourth frontal cyclone mentioned in paragraph P1. A stronger fourth frontal cyclone will pull the tropical cyclone more northward toward it...and vice versa for a weaker frontal cyclone. Looking at the GFS trends...each run suggests a weaker and more north fourth frontal cyclone...which leans toward a S Texas/NE Mexico tropical cyclone landfall rather than an E Texas coast tropical cyclone landfall.

P12...Tropical wave WSW of the Cape Verde Islands in the previous discussion is now midway between the Cape Verdes and Lesser Antilles. It remains suppressed in a dry air mass (shown in today's thermodynamics chart)...and animation of the last days worth of thermo charts suggests this dry air orignated from Africa's desert. Tropical wave also remains suppressed by upper vorticity mentioned in paragraph P10.

P13...Satellite animation suggests the most impressive tropical wave of the season thus far has rolled off the W coast of Africa...and I have marked it to be south of the Cape Verde Islands at 1200Z (even though TAFB has not marked it in their 1200Z analysis). It is in a favorable upper outflow environment beneath the upper ridge in the far east Atlantic...mentioned in paragraph P10 above. Concerning its favorability for development...Will be watching to see if said upper ridge stays with this tropical wave...or if the tropical wave leaves the upper ridge and moves into less favorable upper winds beneath the upper vorticity in paragraph P10 above.
The views of the author are his/her own and do not necessarily represent the position of The Weather Company or its parent, IBM.
Reader Comments
Previous Entries for 2019