2012 Atlantic Hurricane Season Birdseye Discussion #33
...JUNE 21 2012...7:22 AM EDT...
Atlantic tropics are heating up. Chris strengthens to the southeast of Newfoundland using non-tropical processes...but still remains a tropical cyclone. Western Caribbean disturbance has moved into the Gulf of Mexico and is forecast to become the next tropical cyclone. See both special feature sections for further details.

Of note...if the Gulf of Mexico disturbance becomes a tropical storm...it will be the earliest fourth tropical storm on record in the Atlantic basin...beating Hurricane Dennis of 2005 which became a tropical storm on July 5.

Also watching disturbed weather south of Bermuda. See paragraph P3 in mid-latitudes discussion.

...ATMOSPHERIC FEATURES BIRDSEYE CHART...


This chart is generated based on surface analysis from the National Hurricane Center TAFB at 0000Z, and the 0132Z-released HPC analysis.

In light blue is upper air anlaysis, with 200 mb wind barbs calculated by GOES satellite imagery showing the upper-level wind direction. Based on the 200 mb wind barbs, blue-dashed lines are locations of upper troughs, blue-zig-zag lines are locations of upper ridges. Blue Ls are locations of upper lows, blue Hs are locations of upper ridges.

In red is surface analysis, with solid lines indicating locations of surface fronts, dashed lines indicating locations of surface troughs, and zig-zag lines indicating surface ridge axes. Ls indicating surface lows, Hs indicating surface highs.

...THERMODYNAMICS BIRDSEYE CHART...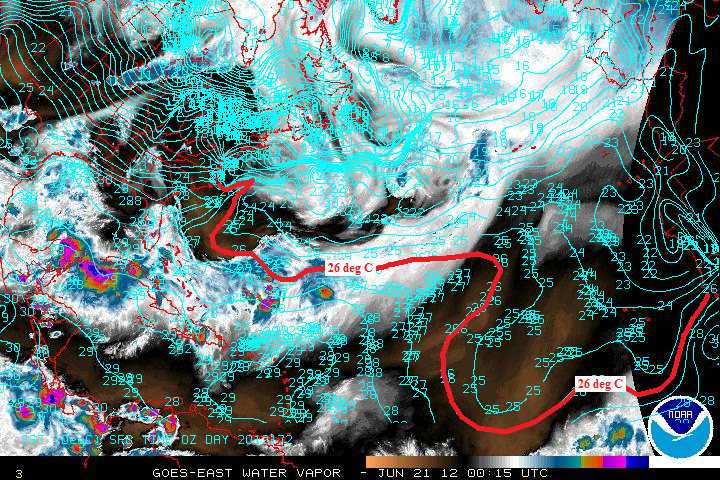 This chart is generated using GOES water vapor satellite imagery. Brown indicates dry air. White, blue, and purple indicates moist air. An increase in moisture indicates slower air parcel lapse rates with elevation and hence an increase toward instability.

Sea-surface temperatures are overlaid with light blue isotherms. The 26 deg C isotherm is highlighted in red. Waters at and south of the 26 deg C isotherm indicate low-level warmth and hence faster environmental lapse rates with elevation (more instability). Waters north of the 26 deg C isotherm indicate slower environmental lapse rates with elevation (less instability).

...SPECIAL FEATURE...TROPICAL STORM CHRIS...
As paragraphs P1 and P3 in the mid-latitudes discussion explains...the western Atlantic parent upper vorticity that helped to produce Chris has merged with an upper trough of the third North American frontal cyclone in recent days. The merger has recently developed an upper low to the SE of Newfoundland...thanks to a local maximum of cool air advection behind Chris's cyclonic circulation. In conjunction with a surface ridge to the NE (see end of paragraph P2)...this upper low is turning Chris northward and will eventually swing Chris in a counter-clockwise loop. The counter-clockwise loop turn forecast (Figure 1 below) is further complicated by the fact that the steering upper low will be pulled southward by continued cool air advection behind Chris's cylonic circuation. The further south the upper low becomes...the tighter the loop Chris makes. My forecast track in Figure 1 continues to follow the NHC forecast track (which has done very well in the last 24 hours)...but then I am to the right of the NHC forecast as Chris makes its loop. This is because I believe the upper low's position is too far NW to suggest that Chris will loop as tightly as the NHC forecast track currently shows.

Intensity-wise...Chris is a reminder that tropical cyclones that do not orginate from the deep tropics can have their entire vertical warm core circulation (surface spin and upper outflow) tucked below the 200 mb upper winds...which is why Chris is not getting sheared into oblivion desipte fast 200 mb winds out of the SW. Instead...it has strengthened while taking advantage of the divergent aspect of the 200 mb wind flow ahead of the western Atlantic upper vorticity (similar to how a non-tropical system strengthens). It has maintained a vertical warm core and impressive t-storms over Gulf Stream waters in the low 20s of deg C. The cold temps of the upper vorticity allow Chris to have instability and t-storms despite waters of below 26 deg C. Based on the eye feature (which has developed in the last 24 hours) becoming quiet impressive...I am forecasting 70 mph max winds by 11 AM this morning (higher than the NHC official forecast shows). I believe there is even a slight chance Chris is a brief hurricane by 11 AM.

Beyond that...Chris will soon cross the north wall of the Gulf stream...taking it to even cooler waters. I agree with the NHC forecast on when Chris becomes non-tropical (by loss its t-storms and vertical warm core when entering stable air over those cold waters). Non-tropical transition is forecast by 5 AM Friday (tomorrow) as shown in Figure 2.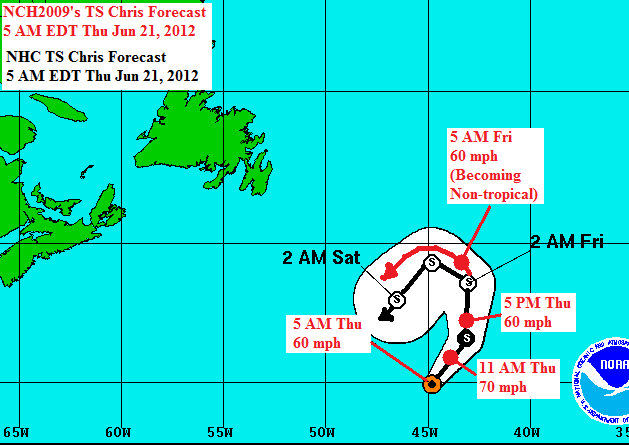 Figure 1: Tropical Storm Chris Forecast

...SPECIAL FEATURE...GULF OF MEXICO DISTURBANCE...
Western Caribbean disturbance is pushing into the southeastern half of the Gulf of Mexico...and its warm core upper ridge has finally begun pushing out the shearing Gulf upper trough (paragraph P3 of mid-latitudes discussion). The very favorable anticyclonic center of the upper ridge is located just north of the Yucatan peninsula...and to the southwest of the disturbance's surface low pressure center. My forecast in Figure 2 below predicts TCF (tropical cyclone formation) beginning 24 hours from now while the surface center regenerates a bit southwestward beneath the favorable outflow of the upper anticyclonic center.

After TCF...the track philisophy in Figure 2 is initially northwest while the steering surface ridge offshore of North Carolina (mentioned in paragraph P2) gets knocked out by fourth frontal cyclone (mentioned in paragraph P1). The track bends back to the west toward the end of the forecast as a strong surface ridge over central North America develops behind the fourth frontal cyclone. Models still want to dump in a west Gulf of Mexico upper level low (ULL) by June 25...a cut-off feature from the upper trough associated with the fourth frontal cyclone. So I currently expect the forecast tropical cyclone to reach peak strength on June 24 before getting southwesterly and southerly shear on the east side of the ULL by June 25.

Some computer model runs still propose that the east side of this disturbance consolidates into another surface low by June 24 or 25 that tracks NE across Florida and then parallel to the east coast of the US . However...I believe the disturbance will have consolidated into a westard tracking tropical storm by then...the dominating surface low pressure field of the tropical storm prevnting another surface low from forming.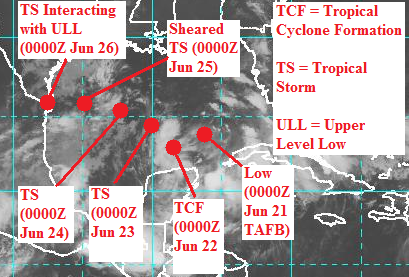 Figure 2: My current best guess forecast for the Gulf of Mexico disturbance this morning.

...MID-LATITUDES DISCUSSION...
P1...Third North American frontal cyclone in recent days has been moved to paragraph P3 below. Fourth such North American frontal cyclone (and associated supporting upper trough) is crossing the central US/Canada border with lowest presure of 1003 mb the above birdseye charts.

P2...Upper ridge over the eastern US remains amplified...thanks to warm air advection ahead of fourth frontal cyclone mentioned in paragraph P1. The upper ridge's eastern convergence continues to support a surface ridge. This surface ridge currently has a 1021 mb center offshore of North Carolina. The eastern Canada fragrment of this upper ridge is now over S Greenland. Eastern convergence from the S Greenland upper ridge supports a surface ridge located well NE of Tropical Storm Chris.

P3...Upper trough over the W Atlantic and Gulf of Mexico has merged with upper trough of third North American frontal cyclone mentioned in paragraph P1 above. At the north end of this merged upper trough...the third frontal cyclone is now over SE Canada with lowest pressure of 1003 mb. Further down the upper trough...Tropical Storm Chris is hooking northward on the trough's east side...and also has strengthened while taking advantage of divergence ahead of the upper trough (see 1st special feature section for details). As the upper ridge to the west (paragraph P2) remains amplified...a cut-off upper low along the upper trough is developing SW of Bermuda...and this upper low's eastern peripherial divergence supports a surface trough and t-storms south of Bermuda. Watching this area for any signs of development...especially since Chris somewhat suprised us by forming under similar circumstances just days ago. Finally...the Gulf portion of this upper trough remains split off...featuring a cut-off upper low at the TX/MX border and east-west fragment on the US Gulf coast.

P4...Surface 1027 mb ridge over the open Atlantic has weakened to 1021 mb in the last 24 hours...due to upper divergence ahead of upper trough in paragraph P3.

P5...Longwave upper trough persists in the NE Atlantic...with divergence ahead of this upper feature supporting a surface frontal activity from W Europe all the way towards Tropical Storm Chris. Divergence ahead of this NE Atlantic longwave upper trough continues to support a surface extratropical (non-tropical) low seen on satellite imagery SW of the British Isles.

...TROPICAL BELT DISCUSSION...
P6...Upper ridge over the Caribbean persists...enhanced by latent heat release of the t-storm clouds of the disturbance covered in the above 2nd special feature section. As the disturbance pushes into the Gulf of Mexico...the strongest portion of the upper ridge is shifting into the southern Gulf.

P7...Inverted upper trough E of the Lesser Antilles is now a cut-off upper low.

P8...Expansive east Atlantic upper ridge continues. In conjunction with the 1021 mb surface ridge mentioned in paragraph P4...deep-layered easterly flow exists south of this upper ridge such that dry air from the African desert is being advected westward across the Atlantic tropics (brown shading in the above thermo birdseye chart). This upper ridge seems remains concentrated into two areas...the western of which is associated with warm air advection ahead of the weather features in paragraph P3...the eastern of which is located toward Africa. Relatively new inverted upper trough profile (midway between the Lesser Antilles and Cape Verde Islands) shows up in between these two upper ridge areas.

P9...Vigorous tropical wave nearing the Lesser Antilles in the previous discussion has crossed those islands into the eastern Caribbean Sea. It is suppressed by dry air mentioned in paragraph P8 above.

P10...Tropical wave that rolled off of Africa yesterday is south of the Cape Verde Islands this early morning. It features a t-storm burst along the surface ITCZ. While it is in favorable low shear (thanks to deep-layered easterlies mentioned in paragraph P8)...it will likely struggle with expasnive dry air presently to the northwest (dry air also mentioned in paragraph P8).
The views of the author are his/her own and do not necessarily represent the position of The Weather Company or its parent, IBM.
Reader Comments
Previous Entries for 2019