2012 Atlantic Hurricane Season Birdseye Discussion #34
...JUNE 23 2012...8:40 PM EDT...
Tropical Storm Debby forms out of the Gulf of Mexico disturbance...becoming the earliest fourth tropical storm on record in the Atlantic basin. The previous holder of this record was Dennis in 2005...which was named on July 5 that year. See special feature section below for further details on Debby.

Elsewhere...it is quiet in the Atlantic tropics...

...ATMOSPHERIC FEATURES BIRDSEYE CHART...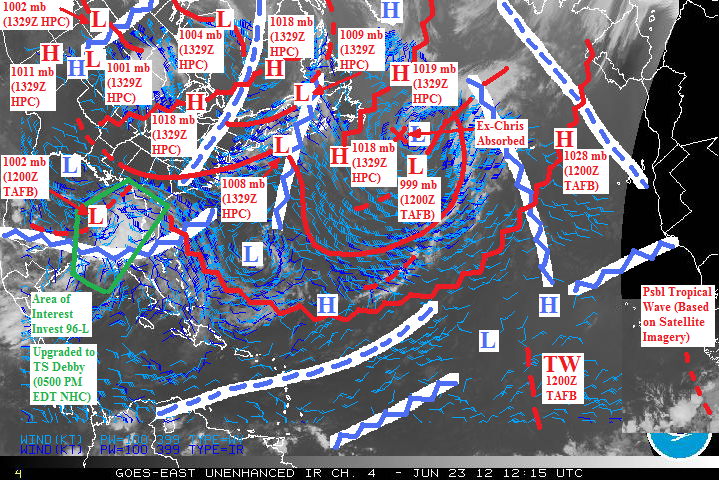 This chart is generated based on surface analysis from the National Hurricane Center TAFB at 1200Z, and the 1329Z-released HPC analysis.

In light blue is upper air anlaysis, with 200 mb wind barbs calculated by GOES satellite imagery showing the upper-level wind direction. Based on the 200 mb wind barbs, blue-dashed lines are locations of upper troughs, blue-zig-zag lines are locations of upper ridges. Blue Ls are locations of upper lows, blue Hs are locations of upper ridges.

In red is surface analysis, with solid lines indicating locations of surface fronts, dashed lines indicating locations of surface troughs, and zig-zag lines indicating surface ridge axes. Ls indicate surface lows, Hs indicate surface highs.

...THERMODYNAMICS BIRDSEYE CHART...


This chart is generated using GOES water vapor satellite imagery. Brown indicates dry air. White, blue, and purple indicates moist air. An increase in moisture indicates slower air parcel lapse rates with elevation and hence an increase toward instability.

Sea-surface temperatures are overlaid with light blue isotherms. The 26 deg C isotherm is highlighted in red. Waters at and south of the 26 deg C isotherm indicate low-level warmth and hence faster environmental lapse rates with elevation (more instability). Waters north of the 26 deg C isotherm indicate slower environmental lapse rates with elevation (less instability).

...SPECIAL FEATURE...TROPICAL STORM DEBBY...
Since the previous special feature discussion on this weather system...the surface low did initially regenerate southwestward toward the north Yucatan shore and beneath the favorable upper anticyclonic center of its warm core upper ridge. After that...I predicted previously it would track northwestward as the frontal system currently mentioned in paragraph P2 of the mid-latitudes discussion would influence the steering. Instead...it tracked more northward and took longer than I thought to become a tropical cyclone (but it is now Tropical Storm Debby). Part of my northwestward lean was associated with what I thought would be steering influence from what is now the 1018 mb ridge in the above birdseye charts (and mentioned in paragraph P1). A cut-off upper-level low (ULL) in the western Gulf of Mexico has spun up as the models have been predicting...see end of paragraph P2 for details. Part of the reason I think this system tracked more northward than expected is attraction toward surface pressure falls caused by upper divergence between the NE edge of the ULL and warm core upper ridging now covering the east half of this system.

Track-wise...the forecasts in Figure 1 from me and the National Hurricane Center (NHC) show a turn towards the west. This is similar to the forecast issued in my previous discussion...but located further north...which makes sense since the system tracked further north than expected as mentioned in the previous paragraph. Central North America surface ridge mentioned in the previous discussion that is expected to cause the westward turn has not yet entered the above birdseye charts...but is over western Canada while supported by upper convergence east of the upper ridge mentioned in paragraph P1 and west of the upper trough in paragraph P2. From western Canada...this surface ridge is acting to block the eastward progression of the west coast frontal system mentioned in paragraph P1. After the surface ridge dives southeast and steers Debby westward...the west coast frontal system will eventually move in and begin curving Debby's track more northward late in the forecast...which is what I hint at in Figure 1. Timing on when the track begins bending northward is based on surface map forecasts issued by the HPC on where the above weather features are expected to be.



Figure 1: My current Tropical Storm Debby forecast this early evening.

Intensity-wise...the first paragraph of this special feature section suggests favorable warm core upper ridging and outflow covering the east half of Debby...and this favorable outflow has a channel reaching into the cut-off upper low SW of Bermuda mentioned in paragraph P4. The west half of Debby meanwhile is inactive while battling westerly shear from the above-mentioned west Gulf upper-level low (ULL). This ULL is the only inhibiting factor for strengthening...so I keep Debby at 50 mph max winds through the first three days. After three days is when the models suggest the ULL will have retrograded westward out of the Gulf while influenced by the anticyclonic center of the upper ridge in paragraph P1. I expect Debby to be in favorable low shear south of this upper ridge...and with warm waters I expect Debby to be quickly developing more symmetrical thunderstorms and warm core upper outflow with the ULL out of the way. As a result...my forecast in Figure 1 shows brisk strengthening to a moderate category 1 hurricane as Debby approaches the upper Texas coast. My strengthening rate toward landfall is slowed as Debby gets more influenced by land.

Forecast impacts in Figure 1 are what I think if Debby follows my forecast. Mention of isolated tornadoes is due to a couple of tornado warnings we have seen in south Florida...but this is also a reminder that Debby could produce isolated tornadoes throughout the entire forecast period (as tropical cyclones are typically capable of). As the impact swath shows...initial storm structure is rather large and biased to the east of center thanks to aforementioned westerly vertical shear from the west Gulf ULL. My impact swath did not include the east coast of Florida...drawing it based on radar loops available by 6 PM CDT. As we have moved closer to 7 PM CDT...radar shows new heavy rain moving northward towards Miami...so perhaps rainfall impacts from Debby could encompass the east coast of Florida as well. Moving ahead...the impact swath becomes a bit smaller as I expect she will consolidate as she strengthens. I also make the impact swath more symmetric about the center with the reduction in shear expected as the unfavorable ULL exits the picture. At the very end...I bend the impact swath northward across east Texas/extreme west Louisiana as I believe the west coast frontal system will pull Debby's track more northward after landfall.

...MID-LATITUDES DISCUSSION...
P1...Warm air advection ahead of surface frontal system entering the western North American continent is supporting an upper ridge over the western US. Upper flow is heavily split between the anticyclonic center of this upper ridge (over SE Colorado) and mainstream upper westerlies flowing into the upper trough mentioned in paragraph P2 below. This split upper flow is supporting showers and t-storms over the north-central US. Otherwise...weather is quiet on the east side of this upper ridge...where upper convergence supports a surface 1018 mb ridge pushing into the east half of the US and Canada.

P2...Frontal cyclone (and associated supporting upper trough) that was centered over the central US/Canada border in the previous discussion has pulled NE across the Hudson Bay and has left the scope of the above birdseye charts. The upper trough is now over the eastern US...and the very long cold front tailing from this cyclone is along the east coasts of the US and Canada (where there are 1008 and 1009 mb frontal depressions). Another frontal cyclone from NW Canada is diving SE into the back side of this upper trough (marked with 1004 mb in the above charts)...and this upper trough has left behind a cut-off upper vortex in the west Gulf of Mexico interacting with Tropical Storm Debby (see special features section for further details). This cut-off's formation was driven by amplification of adjacent upper ridge mentioned in paragraph P1 above.

P3...Upper ridge over the eastern US has pushed eastward into the western Atlantic...but remains supported by warm air advection ahead of the complex frontal system outlined in paragraph P2 above. The south Greenland fragment of this upper ridge persists...and its eastern convergence supports a 1018 to 1019 mb surface ridge stretching southwestward across Newfoundland.

P4...Upper trough over the W Atlantic and Gulf of Mexico has undergone a few changes since the previous discussion. Its north end is now in the north-central Atlantic as a large upper vortex whose eastern peirpherial divergence has supported the rapid formation of what is now a 999 mb surface frontal cyclone which has absorbed the remnants of Chris. Of note...Chris did briefly become a hurricane...and cyclonically looped about this upper vortex as expected while closely following my projected track presented in the last discussion. However...Chris did not lose tropical characterisitcs or weaken as fast as I expected it too during the previous discussion. Cut-off upper vortex forming SW of Bermuda in the previous discussion persists. The Gulf portion of the upper trough has dissipated while becoming replaced with the warm core upper ridge associated with Tropical Storm Debby (see paragraph P7).

P5...Surface 1021 mb ridge over the open Atlantic has dissipated thanks to upper divergence ahead of north-central Atlantic upper vortex mentioned in paragraph P4. Surface ridge has re-located to the SE of the Azores...and strengthened to 1028 mb while taking advantage of upper convergence NE of the E Atlantic upper ridge (paragraph P9) and W of the NE Atlantic upper trough (paragraph P6).

P6...Longwave upper trough persists in the NE Atlanic. It has become amplified as the east Atlantic upper ridge (paragraph P9) has amplified to its southwest.

...TROPICAL BELT DISCUSSION...
P7...Upper ridge over the Caribbean has shifted to a location across the southern Gulf of Mexico while associated with the latent heat release of Tropical Storm Debby's thunderstorm clouds.

P8...Cut-off upper low (vorticity) east of the Lesser Antilles has become strecthed SW to NE thanks to the growth spurt of the upper ridge located northwest of this area and mentioned in paragraph P7 above. Its stretch now takes it from the eastern Caribbean to the tropical waters NE of the Lesser Antilles.

P9...Expansive east Atlantic upper ridge continues. In conjunction with the 1028 mb surface ridge mentioned in paragraph P5...deep-layered easterly flow exists south of this upper ridge such that dry air from the African desert is being advected westward across the Atlantic tropics (brown shading in the above thermo birdseye chart). This upper ridge has amplified since the previous discussion thanks to warm air advection ahead of 999 mb frontal cyclone mentioned in paragraph P4. Inverted upper trough that was embedded in this upper ridge is now making a WNW escape (as a very weak upper low) toward the upper vorticity mentioned in paragraph P8 above.

P10...Tropical wave that entered the eastern Caribbean in the previous discussion has been removed from TAFB analyses very early yesterday...as if it dissipated.

P11...Tropical wave south of the Cape Verde Islands in the previous discussion is now WSW of the islands in this discussion. It is suppressed by dry air mentioned in paragraph P9 above.

P12...Satellite imagery suggests the next tropical wave has rolled off the west coast of Africa...as marked in the lower-right corner of the above birdseye charts. If the tropical wave in paragraph P11 is any indication...this tropical wave should also succumb to the dry air mentioned in paragraph P9.
The views of the author are his/her own and do not necessarily represent the position of The Weather Company or its parent, IBM.
Reader Comments
Previous Entries for 2019