2012 Atlantic Hurricane Season Birdseye Discussion #35
...JUNE 24 2012...5:20 PM EDT...
Tropical Storm Debby uncertain at this hour...but is lashing Florida with tornado warnings...heavy flooding rains...and gusty (and potentially damaging) winds as one gets closer to the storm center. Interests along the United States north Gulf coast should keep monitoring Debby. In case the storm tracks northeastward into the Atlantic...interests along the Georgia and Carolina coasts should also monitor Debby. See special feature section for additional details.

Next full update on this blog may not come until very late tomorrow evening...because of my work schedule. If Debby's behavior changes signficantly from the forecasts indicated in Figure 1 in the special features section...I will write special brief updates before then.

...ATMOSPHERIC FEATURES BIRDSEYE CHART...


This chart is generated based on surface analysis from the National Hurricane Center TAFB at 1200Z, and the 1325Z-released HPC analysis.

In light blue is upper air anlaysis, with 200 mb wind barbs calculated by GOES satellite imagery showing the upper-level wind direction. Based on the 200 mb wind barbs, blue-dashed lines are locations of upper troughs, blue-zig-zag lines are locations of upper ridges. Blue Ls are locations of upper lows, blue Hs are locations of upper ridges.

In red is surface analysis, with solid lines indicating locations of surface fronts, dashed lines indicating locations of surface troughs, and zig-zag lines indicating surface ridge axes. Ls indicate surface lows, Hs indicate surface highs.

...THERMODYNAMICS BIRDSEYE CHART...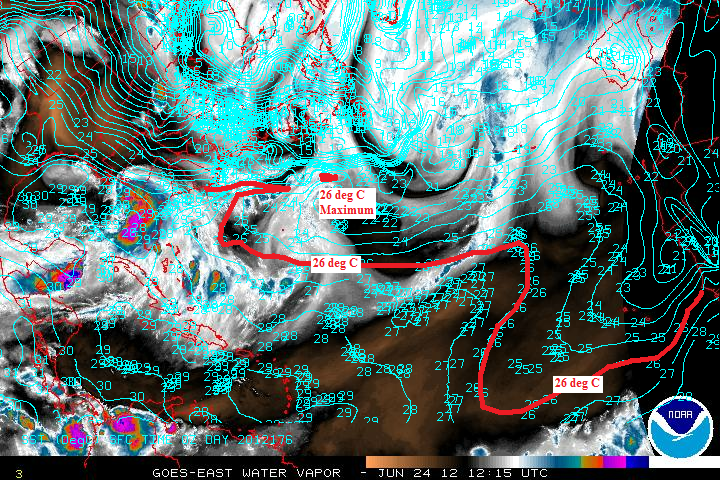 This chart is generated using GOES water vapor satellite imagery. Brown indicates dry air. White, blue, and purple indicates moist air. An increase in moisture indicates slower air parcel lapse rates with elevation and hence an increase toward instability.

Sea-surface temperatures are overlaid with light blue isotherms. The 26 deg C isotherm is highlighted in red. Waters at and south of the 26 deg C isotherm indicate low-level warmth and hence faster environmental lapse rates with elevation (more instability). Waters north of the 26 deg C isotherm indicate slower environmental lapse rates with elevation (less instability).

...SPECIAL FEATURE...TROPICAL STORM DEBBY...
This is a complicated situation...and therefore this current discussion of Tropical Storm Debby will be referring to quiet a few paragraph (P) numbers in the mid-latitude and tropical belt discussions below.

Debby has continued to defy westward-turning forecasts such as those from the National Hurricane Center and what I presented previously...tracking more northeastward than expected. This seems to suggest that the computer model runs that have wanted to take this northeast across north Florida and into the Atlantic (mainly the GFS model) were perhaps on to something.

Cut-off upper-level low (ULL) in the western Gulf of Mexico (paragraph P2) persists. Part of the reason I think this system tracked more northward than expected is attraction toward surface pressure falls caused by upper divergence between the NE edge of the ULL and warm core upper ridging (paragraph P7) covering the east half of this system. Also...the 1018 mb ridge mentioned in this special feature section yesterday is now hugging Debby from the northwest and preventing her from turning westward as remarked at the end of paragraph P1. Moreover...the open Atlantic ridge mentioned in paragraph P5 prevents Debby from going eastward. Therefore...Debby has had no choice but to continue northeastward toward the ridge weakness between the surface ridge mentioned in paragraph P1 and open Atlantic surface ridge in paragraph P5...the ridge weakness caused by various upper-level troughing and surface frontal systems mentioned in paragraph P2. The GFS model that has been insisting Debby will continue northeastward into the Atlantic suggests Debby will be deep-layered enough to "feel" the upper-level troughing in paragraph P2 indefinetly.

However...I am still skeptical of this. I don't think Debby will be deep-layered enough to "feel" the upper trough such that it goes into the Atlantic...instead getting influenced by the eastern nose of the surface to low-level ridge still progged to dive southeastward from western Canada as mentioned towards the end of paragraph P2. As Figure 1 below shows...I have Debby anticyclonically looping while beginning to become steered by this ridge...and then I have Debby continuing WNW thru day 5 while continuing to be steered by that ridge. If the west coast frontal system mentioned in paragraph P1 is deflected far north enough by the upper ridge mentioned in the same paragraph (as shown by models)...then the WNW track could be prolonged beyond day 5. My new track forecast is quiet to the right of the 1 PM CDT National Hurricane Center (NHC) forecast as shown in Figure 1.

The brand new 4 PM CDT NHC forecast (released after Figure 1 was created) shows a very slow northward track into the Florida panhandle thru 5 days...but I am still maintaining my track in Figure 1 which shows the anticyclonic loop offshore of the panhandle...followed by steady WNW track thru day 5.



Figure 1: My current 5-day Tropical Storm Debby forecast this afternoon.

Intensity-wise...not worrying about the dry air mentioned in paragraph P1...with the warm core upper ridge (paragraph P7) helping Debby's outflow. This extensive outflow is causing lift down below and over the ocean surface...allowing for moistening such that dry air is fought off. Debby has strengthened sooner than I thought despite westerly shear from cut-off west Gulf upper-level low (ULL) mentioned in paragraph P2. I take it then she has strengthened thanks to being centered below split flow upper divergence between the NE corner of the ULL and adjacent upper ridge in paragraph P7. I predict additional slow strengthening as we have seen...since the ULL is forecast by the models in the next 48 hours to retrograde westward and away while moving around the anticyclonic center of the upper ridge of paragraph P1. As the ULL departs...the westerly shear will lessen...allowing Debby's t-storms and warm core upper ridge/outflow (paragraph P7) to become more symmetrical and promote strengtening. Shear will remain low as the upper ridge in paragraph P1 passes north of Debby...but I expect weakening later on as the meandering forecast track shown in Figure 1 could allow Debby's prolonged winds to upwell cooler water beneath the northeastern Gulf of Mexico surface.

5-day forecast impacts in Figure 1 are what I think if Debby follows my forecast. Mention of isolated tornadoes is due to tornado warnings we have seen in south Florida since yesterday...but this is also a reminder that Debby could produce isolated tornadoes throughout the entire forecast period (as tropical cyclones are typically capable of). Impact swath is drawn based on the initial lopsided structure caused by westerly vertical shear from the west Gulf ULL...but then I make the impact swath more symmetric about the forecast storm track with the ULL expected to exit the picture. The impact swath barely includes the Florida Keys and south Florida...as the most recent radar images suggest that the bulk of south Florida rains may have ended indefinitely thanks to Debby's continued northeast track. With my meandering track shown in Figure 1...rainfall totals are likely to continue stacking up in Florida...and could later stack up in southern Georgia and SE Alabama...so watch out for possible major flooding. Not expecting as much in the way of rainfall totals in SW Alabama...Mississippi...and eventually Louisiana with a faster and more steady WNW track making the rainfall period not last as long in these areas.

...MID-LATITUDES DISCUSSION...
P1...Warm air advection ahead of surface frontal system hanging off west coast of North America continues supporting the upper ridge over the western US. Eastward progression of west coast surface system is currently blocked by strong surface ridge over western Canada mentioned in paragraph P2. Meanwhile...upper convergence on the east side of the west US upper ridge supports dry air and a surface 1019 to 1015 mb ridge hugging Tropical Storm Debby from the northwest...which is blocking Debby from being able to turn westward at this time.

P2...Frontal system and longwave upper trough over the eastern US is currently complicated. Surface front near the east coasts of the US and Canada persists...and all depressions along this front have consolidated to a 1007 mb center over Nova Scoatia whose local cool air advection has created a small upper vortex (see above birdseye charts). 1004 mb frontal cyclone diving SE from NW Canada is presently on the east coast of Hudson Bay...and its cool air advection has carved out a shortwave upper trough following behind. Yet another shortwave upper trough is seen over the Ohio Valley...which has formed between Tropical Storm Debby's warm core upper ridge and the upper ridge mentioned in paragraph P1. 24 hrs ago this longwave upper trough regime had left behind a cut-off upper vortex (interacting with Tropical Storm Debby) in the western Gulf of Mexico...and this cut-off feature still persists. Of final note...upper convergence on the back side of this longwave upper trough regime supports a strong west Canada surface ridge that is diving southeast.

P3...Upper ridge over the western Atlantic remains supported by warm air advection ahead of the complex frontal system outlined in paragraph P2 above. The south Greenland fragment of this upper ridge has re-merged with the main body of the upper ridge...and its eastern convergence supports 1020 mb surface ridging in the vicinity of south Greenland.

P4...Large upper vortex in the north-central Atlantic persists...and the surface frontal cyclone it supports has now whirled beneath the upper vortex center (effectively creating a deep-layered vortex). With a lack of divergence directly below the upper vortex...the surface cyclone will begin weakening. From the isobars drawn on the 1200Z TAFB analysis...the surface cyclone is currently below 1004 mb. Cut-off upper vortex SW of Bermuda in the previous discussion has been pushed eastward by Debby's sprawling warm core upper ridge...and is now due south of Bermuda.

P5...Open Atlantic surface ridge continues to have a 1028 mb center SE of the Azores that is supported with upper convergence NE of the E Atlantic upper ridge (paragraph P9) and W of the NE Atlantic upper trough (paragraph P6). This surface ridge also has a 1021 mb center north of the Lesser Antilles...which I surmise is supported by upper convergence as upper northerlies from Debby's sprawling outflow (paragraph P7) clashes with upper easterlies from upper vorticity mentioned in paragraph P8.

P6...Longwave upper trough in the NE Atlantic has moved into Europe...with the exception of a highly amplified cut-off fragment over the Canary Islands. The amplification of this cut-off fgrament is due to equal amplification of the east Atlantic upper ridge (paragraph P9) to its southwest. Divergence on the east side of this cut-off upper trough supports increased clouds on Morocco's coast.

...TROPICAL BELT DISCUSSION...
P7...Upper ridge over the southern Gulf of Mexico continues to sprawl with the support of Tropical Storm Debby's thunderstorm latent heat release. This upper ridge continues to support the upper outflow of Debby.

P8...Cut-off upper vorticity persists in a SW-NE elongation...from the eastern Caribbean to the tropical waters NE of the Lesser Antilles.

P9...Expansive east Atlantic upper ridge continues. In conjunction with the 1028 mb surface ridge mentioned in paragraph P5...deep-layered easterly flow exists south of this upper ridge such that dry air from the African desert is being advected westward across the Atlantic tropics (brown shading in the above thermo birdseye chart). A lobe of this upper ridge has amplified since the previous discussion thanks to warm air advection ahead of the deep-layered vortex mentioned in paragraph P4.

P10...Tropical wave WSW of the Cape Verde Islands in the previous discussion is now midway between the Cape Verdes and Lesser Antilles in this discussion. It remains suppressed by dry air mentioned in paragraph P9 above.

P11...Tropical wave that rolled off the west African coast yesterday is now south of the Cape Verde Islands. If the tropical wave in paragraph P10 is any indication...this tropical wave should also succumb to the dry air mentioned in paragraph P9.
The views of the author are his/her own and do not necessarily represent the position of The Weather Company or its parent, IBM.
Reader Comments
Previous Entries for 2019