2012 Atlantic Hurricane Season Birdseye Discussion #122
...OCTOBER 2 2012...4:10 AM EDT...
An outage persists with GOES-E satellite imagery in the last eight days. GOES-W has been extended to cover much of the view in the two birdseye charts below. However...the east edge of the temporary GOES-W scan has a bias for showing cold cloud tops that are not actually present. Therefore...I have patched the east side of the atmospheric birdseye chart with Meteosat-9 grafts. The east side of the thermodynamics birdseye chart is left unrepaired...so be mindful that the moisture content on the east side of this chart has a positive bias due to the false illusion of cold cloud tops.

Nadine weakens to a tropical storm...and is soon to accelerate northeastward for the Azores where tropical storm warnings have been raised. Up to the minute latest info on Nadine...including status of warnings...can be found under the public advisory of Nadine under www.nhc.noaa.gov. Also see Nadine special feature section below for details.

Tropical wave in the eastern Atlantic has become better organized and has been upgraded to Invest 96-L within the last 24 hours...and favorable upper winds are forecast by models to persist with the wave over the next days. Therefore...this tropical wave has been given a special feature section on this blog. See Invest 96-L special feature section below for details.

...ATMOSPHERIC FEATURES BIRDSEYE CHART...


This chart is generated based on surface analysis from the National Hurricane Center TAFB at 1800Z, and the 1918Z-released HPC analysis.

In light blue is upper air analysis, with 200 mb wind barbs calculated by GOES satellite imagery showing the upper-level wind direction. Based on the 200 mb wind barbs, blue-dashed lines are locations of upper troughs, blue-zig-zag lines are locations of upper ridges. Blue Ls are locations of upper lows, blue Hs are locations of upper ridges.

In red is surface analysis, with solid lines indicating locations of surface fronts, dashed lines indicating locations of surface troughs, and zig-zag lines indicating surface ridge axes. Ls indicate surface lows, Hs indicate surface highs.

...THERMODYNAMICS BIRDSEYE CHART...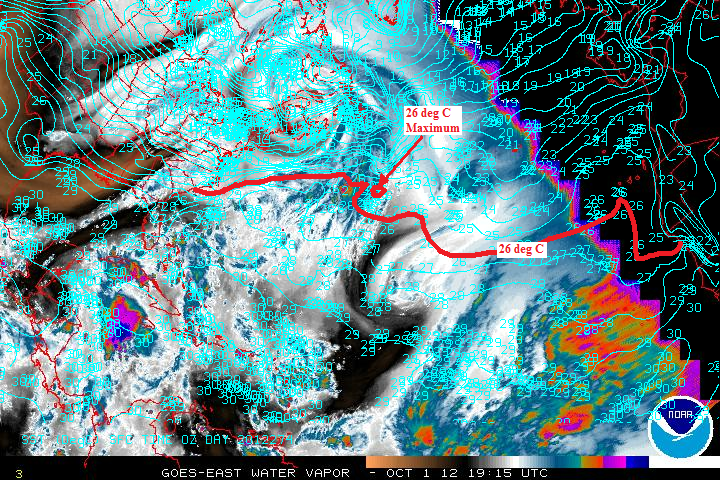 This chart is generated using GOES water vapor satellite imagery. Brown indicates dry air. White, blue, and purple indicates moist air. An increase in moisture indicates slower air parcel lapse rates with elevation and hence an increase toward instability.

Sea-surface temperatures are overlaid with light blue isotherms. The 26 deg C isotherm is highlighted in red. Waters at and south of the 26 deg C isotherm indicate low-level warmth and hence faster environmental lapse rates with elevation (more instability). Waters north of the 26 deg C isotherm indicate slower environmental lapse rates with elevation (less instability).

...SPECIAL FEATURE...TROPICAL STORM NADINE...
While getting an expected dose of zonal shearing upper westerlies on SW part of paragraph P3 upper trough...Nadine has been better following the more bullish weakening rate shown by my intensity forecast in previous discussion #120. However...Nadine tonight and this early morning has stopped weakening in an impressive way while re-wrapping its t-storm activity around an eye-like feature. Therefore...I prefer to still follow the less-bullish weakening rate of my previous intensity forecast in discussion #121...and so my intensity points in Figure 1 below are a copy-paste from discussion #121...which means my intensity forecast is more intense than the 11 PM EDT NHC's. My intensity forecast assumes hardly any weakening as the 00Z GFS still shows a shortwave upper ridge ahead of the paragraph P2 weather system coming in from the NW...so I speculate that the upper ridge would reduce shear...and or Nadine taking some advantage of split flow upper divergence between the flow around the upper ridge and departing zonal upper westerlies. Little to no weakening is also supported by the end of the forecast...as she transitions into a non-tropical low supported by the eastern divergence of the incoming paragraph P2 upper vortex. After examining Nadine's relationship with the upper vortex in the 00Z GFS model...I firmly believe Nadine will be non-tropical by 66 hours (5 PM Thursday) as she will be well-embedded in the eastern divergence of the upper vortex and racing NE into much cooler waters that should cause her to lose her vertical warm core.



Figure 1: My forecast for Tropical Storm Nadine generated at 3 AM EDT this morning.

Nadine is currently located southwest of the Azores...finishing a counter-clockwise loop while drifting SE while trapped between the paragraph P4 ridge to the NE and paragraph P5 ridge to the west. Soon...the paragraph P2 vortex will break through...and how sharp Nadine hooks to the north depends on her relative position to the vortex when it breaks through. Any south or west tendencies would mean being embedded in the south side of the vortex (tracking more east than north). Any north or east tendencies would mean being embedded more in the east side of the vortex (tracking more north than east). Because Nadine is further south than I thought she would be at this point...then it would seem I should favor the more east than north solution (i.e. adjust my track to the right of my previous). On the other hand...I thought Nadine would be stalling out between the two ridges by this point...but instead she is showing some east drift (i.e. I should adjust my track to the left of my previous). With one tendency favoring a rightward adjustment and the other a leftward adjustment...I am simply not adjusting anything tonight and maintaining my previous track forecast. However...I do need to favor a faster approach to the Azores than my previous because my previous track did not show the current east drift. Therefore...I like and 100% agree with the current NHC track forecast which is aligned with my previous...but shows a faster approach to the Azores than my previous.

Impact swath in Figure 1 is based on extrapolating the 11 PM EDT tropical storm wind radius along the NHC's forecast track. Although my impact swath for Wednesday and Thursday covers the western and central Azores...a slight shift in track one way or the other could easily change this. Therefore...it is important to emphasize that all of the Azores should be acting on the tropical storm warning....which is in effect for all of the Azores. See www.nhc.noaa.gov Nadine public advisories for latest statements on Azores tropical storm warnings.

...SPECIAL FEATURE...TROPICAL WAVE INVEST 96-L...
Satellite imagery continues showing an eastern Atlantic tropical wave with cyclonic turning in its t-storm clouds such that TAFB continues assigning it a surface low pressure spin. NHC TAFB positioned this tropical wave well west-southwest of the Cape Verde Islands as of 1800Z TAFB last afternoon. This tropical wave is continuing to be enhanced by upper outflow of paragraph P5 East Atlantic upper ridge. Models show this upper ridge remaining in place while re-enforced by this tropical wave's t-storm latent heat release...so tropical cyclone formation from this system is likely...especially as the tropical wave has continued to become better organized. Based on its historic slow rate or organization and its current satellite appearance...my current best guess for tropical cyclone formation is for sometime on Wednesday October 3.

It appears that a tropical cyclone that develops out of this system would first track west while steered by paragraph P4 and P5 Atlantic surface ridges...and then get pulled northward into the open Atlantic by widening weakness between the two ridges generated by paragraph P2 frontal cyclone.

...MID-LATITUDES DISCUSSION...
P1...Major upper trough over western North America has slid east into central North America. Western convergence of the upper trough is driving dry air over the SW US and W Gulf of Mexico...as well as an impressive western US surface ridge. Upper trough's northern half driving a frontal cyclone from W Canada eastward (surface cold front of the cyclone seen in top-left of above atmo chart...located as far south as the north-central US). Southern half of upper trough is driving an impressive frontal cyclone moving ENE across the southeastern US (evaluated at 998 mb as of 1918Z). Because some scattered severe weather continues to be a problem with this cyclone...residents across the SE US and eastern US should visit www.nws.noaa.gov and or listen to local media for latest info on hazardous weather from this system.

P2...Upper vortex over E Canada and the NE US has shifted east and has become vertically stacked with NE US frontal cyclone it supports (evaluated at 1000 mb as of 1918Z)...resulting in a deep-layered cyclone tonight and early this morning. Western upper convergence of deep-layered vortex supports 1014 mb surface ridge over the Great Lakes.

P3...Upper trough continues moving east across the Atlantic high seas. The upper trough's eastern divergence continues supporting a frontal cyclone that has passed well northeast of Tropical Storm Nadine...and has exited the picture while headed for NW Europe. However...this frontal-cyclone's stalled front is marked in the top-center of the above atmo chart.

P4...Impressive ridge in the NE Atlantic persists at 1026 mb in the last 24 hours...and is about to become supported by the western convergence of paragraph P3 upper trough passing by to the north.

...TROPICAL BELT DISCUSSION...
P5...Central tropical Atlantic upper trough/vortex persists SW of Tropical Storm Nadine. Its western convergence supports 1022 mb W Atlantic surface ridge. In relatively higher pressures southeast of this upper trough...upper ridge remains built across the eastern tropical Atlantic...further supported by t-storm latent heat release from special feature Invest 96-L and tropical wave in paragraph P7.

P6...W Caribbean cut-off upper vortex persists. The upper ridges flanking the system to the SW and NE have consolidated into one upper ridge located east of the upper vortex...the upper ridge spanning from the eastern Caribbean northeastward into the W Atlantic and propped up by mass low-level warm air advection ahead of the paragraph P1 and P2 weather systems. Split flow upper divergence between the cut-off upper vortex and upper ridge continues supporting stormy weather in the area...currently located across the W Caribbean...Jamaica...Cayman Islands...and Cuba. Despite the persistence of split flow upper divergence and stormy weather in this area...curiously all surface low pressure features (tropical waves and surface troughs) have dissipated in the last 24 hrs. Therefore...this area continues to be considered a non-threat for tropical development.

P7...Tropical wave midway between the Cape Verdes and Lesser Antilles in the previous discussion is located west of tropical wave Invest 96-L. The eastern half of this wave supports increased t-storms while supported by enhanced upper outflow of paragraph P5 East Atlantic upper ridge. Meanwhile...the west half of the tropical wave is suppressed by hostile southerly vertical shear produced by east side of paragraph P5 Central Atlantic upper trough. Expect no development from this tropical wave as it continues westward in the oppressive environment of the upper trough.
The views of the author are his/her own and do not necessarily represent the position of The Weather Company or its parent, IBM.
Reader Comments
Previous Entries for 2019