2012 Atlantic Hurricane Season Birdseye Discussion #131
...FRIDAY OCTOBER 12 2012...6:55 AM EDT...
In the last 24 hours...tropical disturbance Invest 97-L just north of the eastern Bahamas has strengthened into tropical depression sixteen then into Tropical Storm Patty. Patty will be accelerating west-southwestward across the Bahamas and Cuba by late this weekend and Monday. However...it is expected to be a remnant surface trough by then. See Patty special feature section below for details.

Attention continues turning to tropical wave Invest 98-L en route to the Lesser Antilles. It is becoming more apparent that tropical cyclone formation will be likely with this system...and therefore I have upgraded it to a special feature on this blog. This system could soon spin up into a tropical cyclone that brings tropical storm conditions to the Lesser Antilles...Virgin Islands...and Puerto Rico. In addition...computer model runs suggest that Bermuda should also monitor the progress of this system. See the Invest 98-L special feature section below for details.

An outage persists with GOES-E satellite imagery in the last several days. GOES-W has been extended to cover much of the view in the two birdseye charts below. However...the east edge of the GOES-W scan has a bias for showing cold cloud tops that are not actually present. Therefore...I have patched the east side of the atmospheric birdseye chart with Meteosat-9 grafts. The east side of the thermodynamics birdseye chart is left unrepaired...so be mindful that the moisture content on the east side of this chart has a positive bias due to the false illusion of cold cloud tops.

...ATMOSPHERIC FEATURES BIRDSEYE CHART...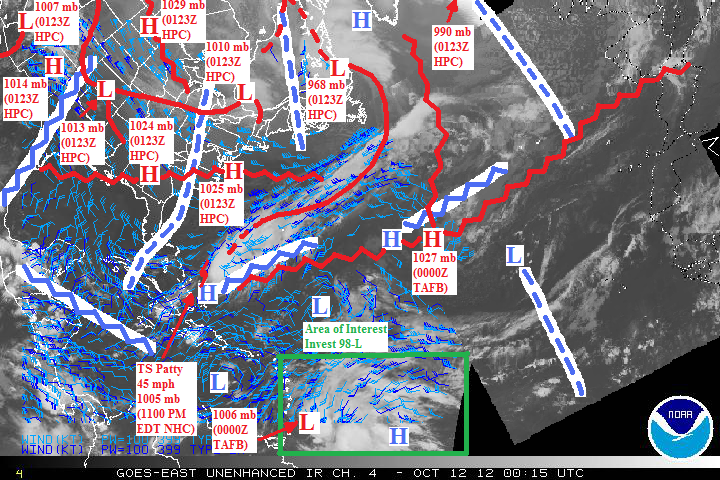 This chart is generated based on surface analysis from the National Hurricane Center TAFB at 0000Z, and the 0123Z-released HPC analysis.

In light blue is upper air analysis, with 200 mb wind barbs calculated by GOES satellite imagery showing the upper-level wind direction. Based on the 200 mb wind barbs, blue-dashed lines are locations of upper troughs, blue-zig-zag lines are locations of upper ridges. Blue Ls are locations of upper lows, blue Hs are locations of upper ridges.

In red is surface analysis, with solid lines indicating locations of surface fronts, dashed lines indicating locations of surface troughs, and zig-zag lines indicating surface ridge axes. Ls indicate surface lows, Hs indicate surface highs.

...THERMODYNAMICS BIRDSEYE CHART...


This chart is generated using GOES water vapor satellite imagery. Brown indicates dry air. White, blue, and purple indicates moist air. An increase in moisture indicates slower air parcel lapse rates with elevation and hence an increase toward instability.

Sea-surface temperatures are overlaid with light blue isotherms. The 26 deg C isotherm is highlighted in red. Waters at and south of the 26 deg C isotherm indicate low-level warmth and hence faster environmental lapse rates with elevation (more instability). Waters north of the 26 deg C isotherm indicate slower environmental lapse rates with elevation (less instability).

...SPECIAL FEATURE...TROPICAL STORM PATTY...
Under the upper outflow and reduced shear of the SW end of the paragraph P4 upper ridge...tropical low Invest 97-L has strengthened to Tropical Storm Patty in the last day. However...as anticipated in my previous remarks on this system...1010 mb frontal depression in paragraph P1 is re-amplifying the upper troughing such that the favorable W Atlantic upper ridge is getting booted out and unfavorable westerly vertical shear is pushing in. However...with the 00Z GFS model showing the east half of Patty under the favorable upper ridge for another 24 hrs...I agree with the NHC 11 PM EDT intensity forecast...which keeps Patty at current strength for 24 more hours. I also agree with the 11 PM EDT NHC advisory weakening rate (albeit I forecast the final advisory will be 11 PM Sat while the NHC said by 11 PM Sunday)...which shows weakening beginning in 36 hrs. This is consistent with the 36-hour and beyond 00Z GFS upper wind forecast showing the favorable upper ridge being pushed out altogether while becoming replaced by a large area of shearing southwest upper winds from the paragraph P1 upper troughing.



Figure 1: My forecast for Tropical Storm Patty generated very early this morning

As I anticipated in my previous discussion of this system...Patty is stationary while trapped between the paragraph P1 central US surface ridge and paragraph P2 Atlantic surface ridge. With the two ridges shown in models to be of equal strength and opposing influence...coupled with the fact that the gap between the two ridges will be re-enforced by the 968 mb and 1010 mb depressions in paragraph P1...I still expect Patty to be stationary for the timeframe that is the next 24 hrs as I stated yesterday. Alternatively...the NHC shows a southward drift for Patty in the next 24 hrs (so I have a north bias relative to NHC from the get-go as seen in Figure 1)...while the 00Z GFS shows a northeast drift in the next 24 hrs. Therefore I believe my stalled forecast track for the next 24 hrs is a good compromise between these two solutions. After 24 hrs...the models agree that the central US ridge in paragraph P1 will eject eastward and pass to the north of Patty...and tropical wave Invest 98-L should be pushing in from the east by that time. Therefore...I agree with the NHC on an accelerating WSW track after 24 hrs while steered by 98-L and the ridge (but my track line is a little north of the NHC's becauase of my aformentioned initial north bias for the first 24 hrs).

Blue-dashed impact swath in Figure 1 is based on the 11 PM EDT NHC tropical storm wind radius...and extrapolating that along my forecast track along the length where I forecast Patty to be a tropical storm. With that said...we can expect Patty to not bring tropical storm conditions to the Bahamas or any land areas beyond in her forecast WSW track...because she should be dissipated from vertical shear by then. It is hard to distinguish Patty's cold cloud-tops from that of the paragraph P1 W Atlantic cold front's...but it is likely their is a large area of offshore heavy rain east of the center of Patty both inside and outside my impact swath. Because it is hard to distinguish the potential rain shield of Patty from the front's...that is why my impact swath simply represents the area of expected tropical storm winds rather than the area of heaviest rain. I expect the front to sweep up all of Patty's eastern t-storm activity by the time she accelerates WSW...so this area of heavy rain should not affect the Bahamas or any other land areas her WSW track will bring her.

...SPECIAL FEATURE...STRONG TROPICAL WAVE INVEST 98-L...
Tropical wave Invest 98-L with 1006 mb low pressure spin is currently approaching the Lesser Antilles..and has gotten better organized in the last 24 hours. It continues to be enhanced by upper outflow of paragraph P3 eastern tropical Atlantic upper ridge...which has become amplified over the system thanks to the system's t-storm latent heat release and thanks to the anticipated diminishing of SW-NE upper trough in paragraph P3. However...the surface low pressure center of 98-L is on the west edge of the favorable upper ridge...so the system still is fighting some SW vertical shear from the SW-NE upper trough for the time being. With the 00Z GFS showing the favorable upper ridge continuing to expand and following the system for the next days...coupled with continued diminishing of the SW-NE upper trough...98-L could quickly spin up into a tropical storm in the next 24 hours...and in fact could become a strong tropical cyclone (certainly stronger than current Tropical Storm Patty).

Models support 98-L tracking NW across the eastern Caribbean region (Lesser Antilles...Virgin Islands...and Puerto Rico area) while rounding the SW edge of paragraph P2 central Atlantic surface ridge...the NW track also supported by expanding ridge weakness from Patty...as well as the 968 mb and 1010 mb frontal depressions mentioned in paragraph P1. The central US surface ridge in paragraph P1 is then progged to eject eastward to the north of 98-L...supporting a more west track toward the Bahamas...but the models show the next mid-latitude system quickly kicking in behind that ridge so that 98-L misses the Bahamas and turns northward toward Bermuda. It is important to emphasize that weak to moderate tropical storm conditions could quickly spin up over portions of the Lesser Antilles...Virgin Islands...and Puerto Rico area in the next 24 to 48 hrs...and that Bermuda could be affected by this system before the next 120 hrs (5 days) passes.

...MID-LATITUDES DISCUSSION...
P1...Upper troughing over North America is being re-enforced by cool air advection from strong surface frontal cyclone that has intensified from 985 to 968 mb while moving from eastern Hudson Bay to the E coast of Canada. Cool air advecdtion of 1010 mb frontal depression that shifted from Montana to SE Canada is also supporting the upper troughing. Western convergence of this upper troughing is supporting 1024 and 1029 mb surface ridge centers over the central US. Intense 969 mb frontal cyclone just east of Greenland has weakened to 990 mb while whirling beneath the less-divergent axis of its shortwave upper trough. A long frontal zone formerly extended from this 990 mb center...reaching as far SW as the W Atlantic. This front is now controlled by the aformentioned 968 mb center over the E coast of Canada.

P2...Upper vortex continues south of the Azores. Western convergence of this upper vortex is supporting 1027 mb central Atlantic surface ridge.

...TROPICAL BELT DISCUSSION...
P3...SW-NE tilted upper trough in the central Atlantic and eastern Caribbean persists...currently established as a pair of upper vortices. In relatively higher pressures west of the upper trough...a western Caribbean upper ridge persists. Yet another upper ridge persists in relatively higher pressures east of this upper trough...located in the eastern tropical Atlantic over special feature Invest 98-L. To the east of that...the upper trough W of the Cape Verde Islands in the previous discussion has become absorbed by the paragraph P2 upper vortex.

P4...W Atlantic upper ridge remains amplified across the north Atlantic due to warm air advection ahead of 990 mb and 968 mb gale centers mentioned in paragraph P1.
The views of the author are his/her own and do not necessarily represent the position of The Weather Company or its parent, IBM.
Reader Comments
Previous Entries for 2019