2012 Atlantic Hurricane Season Birdseye Discussion #133
...SUNDAY OCTOBER 14 2012...5:33 PM EDT...
Tropical Storm Rafael is pulling out of the eastern Caribbean region...and is headed toward Bermuda where a tropical storm watch has been raised. See Rafael special feature section below for details.

An outage persists with GOES-E satellite imagery in the last several days. GOES-W has been extended to cover much of the view in the two birdseye charts below. However...the east edge of the GOES-W scan has a bias for showing cold cloud tops that are not actually present. Therefore...I have patched the east side of the atmospheric birdseye chart with Meteosat-9 grafts. The east side of the thermodynamics birdseye chart is left unrepaired...so be mindful that the moisture content on the east side of this chart has a positive bias due to the false illusion of cold cloud tops.

...ATMOSPHERIC FEATURES BIRDSEYE CHART...


This chart is generated based on surface analysis from the National Hurricane Center TAFB at 1200Z, and the 1330Z-released HPC analysis.

In light blue is upper air analysis, with 200 mb wind barbs calculated by GOES satellite imagery showing the upper-level wind direction. Based on the 200 mb wind barbs, blue-dashed lines are locations of upper troughs, blue-zig-zag lines are locations of upper ridges. Blue Ls are locations of upper lows, blue Hs are locations of upper ridges.

In red is surface analysis, with solid lines indicating locations of surface fronts, dashed lines indicating locations of surface troughs, and zig-zag lines indicating surface ridge axes. Ls indicate surface lows, Hs indicate surface highs.

...THERMODYNAMICS BIRDSEYE CHART...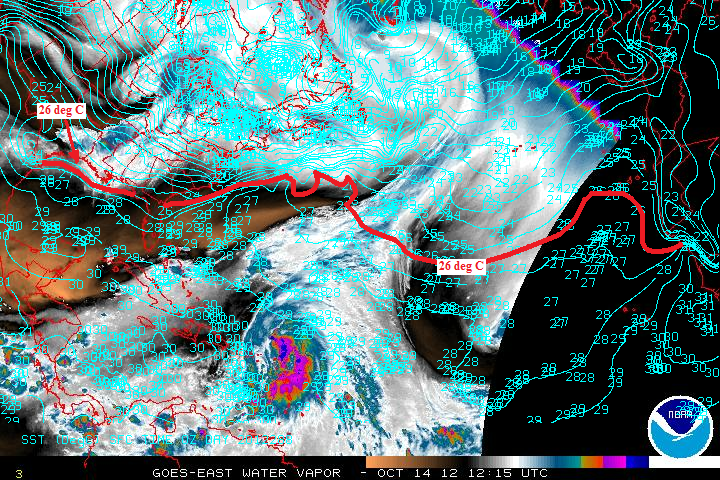 This chart is generated using GOES water vapor satellite imagery. Brown indicates dry air. White, blue, and purple indicates moist air. An increase in moisture indicates slower air parcel lapse rates with elevation and hence an increase toward instability.

Sea-surface temperatures are overlaid with light blue isotherms. The 26 deg C isotherm is highlighted in red. Waters at and south of the 26 deg C isotherm indicate low-level warmth and hence faster environmental lapse rates with elevation (more instability). Waters north of the 26 deg C isotherm indicate slower environmental lapse rates with elevation (less instability).

...SPECIAL FEATURE...TROPICAL STORM RAFAEL...
Track-wise...Rafael is centered further NE than what was expected 24 hrs ago...so my and the NHC's track forecasts in Figure 1 are basically the same except that the forecast points are shifted NE from the previous. Visible satellite loops this afternoon indicate that Rafael is moving more westerly in response to the 1026 to 1030 mb ridge in paragraph P2. I continue to have a leftward bias relative to NHC's track forecasts (and even the 12Z GFS model from this afternoon) as I still think these solutions are underplaying the amount of westward steering influence the aforementioned ridge is having on Rafael. I agree with a rapid northward and NNE acceleration toward the end of the forecast as Rafael gets caught in the southwesterly flow ahead of the paragraph P1 weather system.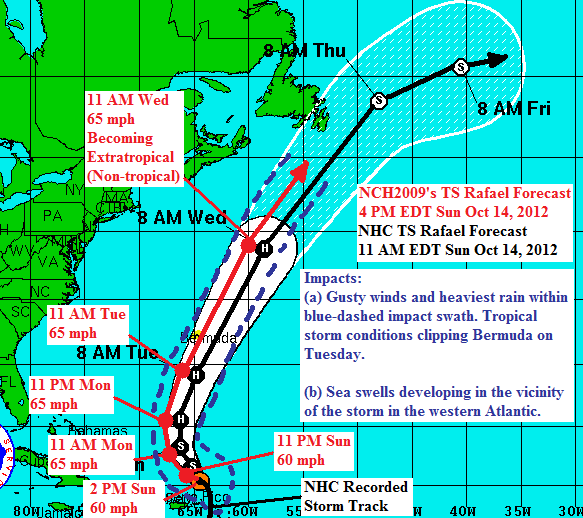 Figure 1: My forecast generated for Tropical Storm Rafael as of 4 PM EDT this afternoon

Intensity-wise...since inception...Rafael's east half has been under a favorable upper ridge that has been pumped-up by the system's immense t-storm latent heat release...while the west half has been suppressed by upper troughing mentioned in paragraph P2. Although this upper trough is backing off and fracturing as previously expected...Rafael has struggled to strengthen beyond 60 mph max winds. Even though Rafael briefly had a banding-type eye at 1300Z...this structure has collapsed under the shear of the upper troughing...so I only forecast slight additional strengthening in Figure 1 before the shear increases further as the paragraph P1 upper trough moves in. This means I no longer forecast Rafael to become a hurricane (75+ mph max winds)...while the NHC continues to insist that Rafael will become a hurricane. I do not show weakening toward the end of the forecast. My philosophy is that Rafael will maintain strength while supported by the eastern divergence of the paragraph P1 upper trough that ultimately makes him transition into a non-tropical system.

Impact swath in Figure 1 is based on the 11 AM tropical storm wind radius...and extrapolating that along my forecast track. This swath...which has a rightward bias with respect to the storm track...I think well-represents the sheared structure that Rafael will have throughout the forecast period. It should be noted that 24 hrs ago...we were anticipating possible direct impacts (gusty winds and rains) to reach the Virgin Islands and Puerto Rico by now. Because Rafael is further NE than expected...such direct impacts are no longer expected in these areas. Bermuda is still likely to be impacted on Tuesday (where a tropical storm watch is in effect)...and perhaps eastern Newfoundland by Thursday. If a Newfoundland scenario plays out...it is likely that Rafael will be a vigorous non-tropical cyclone by then rather than a tropical cyclone.

...MID-LATITUDES DISCUSSION...
P1...Next upper trough and surface frontal system in the mid-latitude westerlies is crossing the western US. Western convergence of the upper trough supports 1028 mb ridge over the 4-corners states...and eastern divergence of the upper trough supports 999 mb frontal depression at the Missouri-Iowa border moving ENE into northern Illinois and toward Great Lakes region. Warm air advection of the 999 mb depression supports an upper ridge shifting from the central to the eastern US..with directional vertical shear between the upper westerlies across the upper ridge and low-level southerlies ahead of the 999 mb depression. The directional shear and instability from daytime heating of land may trigger bouts of severe weather across the eastern US today and Monday. Visit www.nws.noaa.gov for latest severe weather watches and warnings with this system.

P2...Upper trough over the W Atlantic and Caribbean is fracturing into two due to strength of paragraph P1 upper ridge moving into the eastern US. Dominant surface gale of this system has bombed-out from 999 to 958 mb in the last 24 hrs while moving from NE of Newfoundland to the southern tip of Greenland. This intense gale is producing significant winds and waves over the Atlantic high seas and a large part of Greenland. Western convergence of this upper trough supports dry air in the W Atlantic...Gulf of Mexico...W Caribbean...and strong 1026 to 1030 mb ridge shifting from the NE US into the W Atlantic. Less-than-996 mb surface depression and its shortwave upper trough heading toward Europe in the previous discussion has made it to Europe and is exiting the picture from the top-right of the above atmo chart.

...TROPICAL BELT DISCUSSION...
P3...Remnant surface trough of Patty has moved WSW into the central Bahamas while steered by Rafael and 1026 to 1030 mb ridge in paragraph P2. SW vertical shear from paragraph P2 upper troughing and paragraph P2 dry air should prevent Patty from regenerating into a tropical cyclone.

P4...Central Atlantic upper ridge has melded with warm core upper ridge over Tropical Storm Rafael.

P5...1027 mb central Atlantic surface ridge in paragraph P5 of previous discussion #132 has shifted into the eastern Atlantic and is currently 1026 mb while now supported by upper convergence between southerlies from paragraph P6 E tropical Atlc upper ridge and northerlies from paragraph P4 central Atlnatic upper ridge.

P6...In the eastern tropical Atlantic...cut-off upper vortex from paragraph P3 of previous discussion #132...and tropical wave from paragraph P6 of previous discussion #132...is creating some active weather. The upper vortex has sheared-off the t-storm cluster from the tropical wave...where it persists W of the Cape Verde Islands while enhanced by outflow from a new E tropical Atlc upper ridge that has developed in relatively higher pressures E of the upper vortex. It appears the upper vortex is cold enough to de-stablize things over the warm waters such that t-storm flare ups have developed near the core of the upper vortex over the last day. Their is also a pair of new surface troughs...one west of the tropical wave...the other NNW of the tropical wave. I surmise that both surface troughs have developed due to split flow upper divergence between the flow around the upper vortex and the flow around the paragraph P4 upper ridge.
The views of the author are his/her own and do not necessarily represent the position of The Weather Company or its parent, IBM.
Reader Comments
Previous Entries for 2019