2012 Atlantic Hurricane Season Birdseye Discussion #146
...TUESDAY OCTOBER 30 2012...1:58 AM EDT...
Hurricane Sandy is living up to its expectation as one of the most damaging storms in United States History as it has transitioned into an intense and large-sized non-tropical gale. Statement on the epicenter of Sandy's impacts in New York City metro and New Jersey was written in special update #145A. Sandy's impacts are far from over...as she will slowly wind down thru the next 24 hours. See Figure 1 and additional statements in the Sandy special feature section for the impacts Sandy is to deliver over the next 24 hours.

...ATMOSPHERIC FEATURES BIRDSEYE CHART...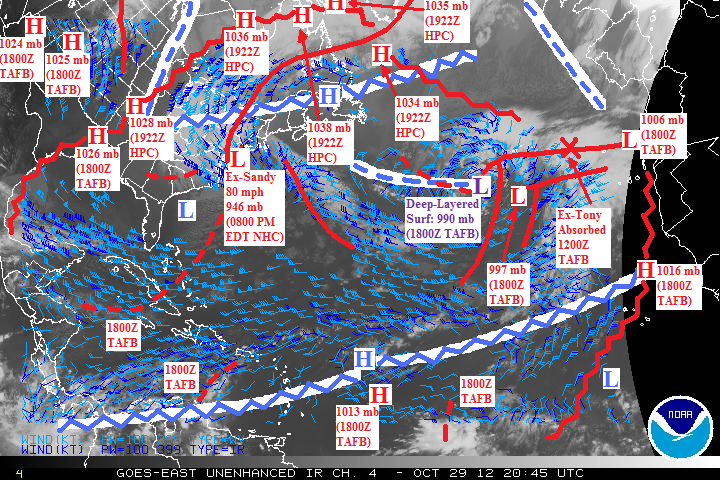 This chart is generated based on surface analysis from the National Hurricane Center TAFB at 1800Z, and the 1922Z-released HPC analysis.

In light blue is upper air analysis, with 200 mb wind barbs calculated by GOES satellite imagery showing the upper-level wind direction. Based on the 200 mb wind barbs, blue-dashed lines are locations of upper troughs, blue-zig-zag lines are locations of upper ridges. Blue Ls are locations of upper lows, blue Hs are locations of upper ridges.

In red is surface analysis, with solid lines indicating locations of surface fronts, dashed lines indicating locations of surface troughs, and zig-zag lines indicating surface ridge axes. Ls indicate surface lows, Hs indicate surface highs.

...THERMODYNAMICS BIRDSEYE CHART...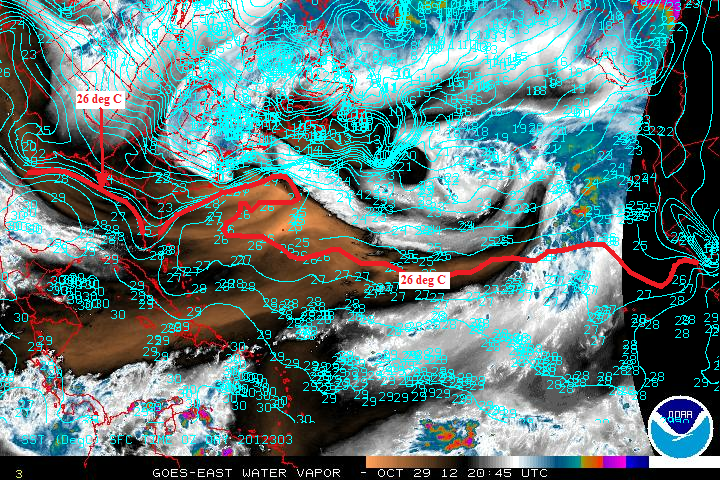 This chart is generated using GOES water vapor satellite imagery. Brown indicates dry air. White, blue, and purple indicates moist air. An increase in moisture indicates slower air parcel lapse rates with elevation and hence an increase toward instability.

Sea-surface temperatures are overlaid with light blue isotherms. The 26 deg C isotherm is highlighted in red. Waters at and south of the 26 deg C isotherm indicate low-level warmth and hence faster environmental lapse rates with elevation (more instability). Waters north of the 26 deg C isotherm indicate slower environmental lapse rates with elevation (less instability).

...SPECIAL FEATURE...NON-TROPICAL GALE SANDY...
Track-wise for Sandy...see special update #145A for how the paragraph P1 upper vortex currently to the southwest of her became a bit more energized than previously thought. As a result...the upper vortex whirled Sandy into southern New Jersey a bit faster than previously thought. This upper vortex should continue ejecting east then eventually NE with cool air advection on the back and south sides of Sandy persisting...and I think Sandy should in turn loop cyclonically later today about the NW side of the NE ejecting upper vortex. But because the upper vortex is more energized than previously thought...I show Sandy flung by the upper vortex further west than my previous for 11 AM this morning...then making a larger radius loop just after. It should be noted that the NHC recorded storm track and NHC forecast are north of my solution for 11 AM this morning...but recently radar imagery shows Sandy turning westward such that her center should arrive in south-central Pennsylvania and hence toward my forecast track.

Because I show a larger radius loop than what I showed previously for Tuesday (today)...Sandy should be further east than I thought by the end of the loop...which makes my Wednesday and Thursday forecast points a bit more east than my previous. By Wednesday and Thursday...Sandy should be in a position to be lifted northward by paragraph P1 shortwave upper trough headed into the Great Lakes. I still expect Sandy's cool air advection to amplify this shortwave upper trough into a new upper vortex in the vicinity and to the south. Afterwards...this upper vortex should shoot NE...and so I have Sandy make another small cyclonic loop on Thursday around the west side of NE-shooting upper vortex. This NE shooting upper vortex's eastern divergence should create a new surface low by Friday located NE of Sandy...and I expect this new surface low's south side to pull Sandy ENE and absorb her.

Intensity-wise for Sandy...she strengthened a bit more than expected before landfall as detailed in special update #145A...but she has since weakened and is back on track with the previous intensity forecast. What is causing her weakening is that she is whirling beneath the less-divergent region of the paragraph P1 upper vortex. I continue to generally agree with the NHC's weakening rate since I am inexperienced with precisely predicting the max wind speed of a decaying non-tropical gale. However by Wednesday and Thursday..I still prefer to stay above the NHC intensity guidance as she may maintain strength or even re-strengthen a little if Sandy interacts with the eastern divergence of paragraph P1 shortwave upper trough soon to move across the Great Lakes.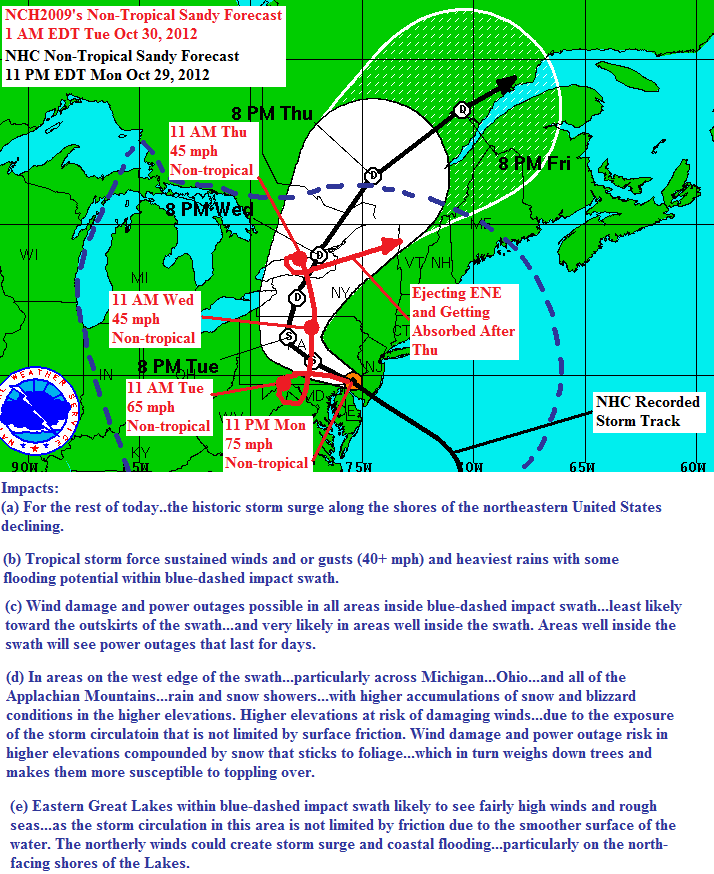 Figure 1: Non-tropical gale Sandy Forecast

Impact swath in Figure 1 is a marriage of 11 PM EDT NHC tropical storm wind radius to the western boundaries of my previous impact swath...which still match up very well with the western extent of advisories...watches..and warnings still in effect from the United States National Weather Service local offices. A broad explanation of expected impacts within the swath is written in statements (a) through (e) in Figure 1. The following is a region-by-region breakdown of expected impacts...and additional details on your local watches and warnings can be found on www.nws.noaa.gov...

For the states of New Jersey...New York...Vermont...New Hampshire...Massachusetts...Connecticut...Rhode Island...Maryland...Delaware...Virginia...Pennsylv ania...and Washington DC...expect severe winds and potentially flooding rains to persist for the rest of the day and tonight. In a sizeable area around the storm center...while sustained wind will be in the tropical storm force range (40 to 70 mph)...an isolated gust to hurricane force (75+ mph) cannot be ruled out. Power outages continue to occur in a massive area in this region. Because of this...utilities in the region will need more time than usual to fix all affected areas...so power outages will last a long period. It will get cold in the wake of Sandy as she wraps in cold air on her back side...so have methods to stay warm without electricity for the next few days. Coastal storm surge in this region will gradually diminish today...but for your safety do not venture back until local officials permit you.

For southern Maine within the blue-dashed impact swath...rainfall with gusty and potentially damaging winds will diminish by tonight.

For the eastern Great Lakes inside the impact swath...the upper peninsula of Michigan inside of the impact swath...all of the lower peninsula of Michigan...the shores of Chicago, Illinois...and for the east half of Indiana...and the east half of Kentucky...the pressure gradient between the west side of Sandy and the strong central US surface ridge in paragraph P1 will tighten as Sandy pushes westward today. Due to the smooth surface of the lakewater...the northerly winds driven by the pressure gradient will not be limited by friction...and therefore are expected to be severe over the lakes and in areas just downwind of the lakes. Lake waters will therefore by choppy...and a storm surge can be expected on the north facing shores of the lakes. In lieu of this storm surge potential...coastal flood warnings...including for the shores of Chicago...have been issued where appropriate. Land areas within the blue-dashed impact swath and just downwind from the lakes in Michigan...northern Ohio...and NW Indiana can expect damaging winds with power outages. Even in areas quiet away from the lakes...wind gusts could reach tropical storm force (40+ mph) and cause scattered damage and power outages. Any power outages in this region are not expected to be as widespread as they are in the states to the east...so restoration of power will not take as long. As Sandy wraps in cold air on her back side...expect rain showers in this region to mix in with wet snow at times.

For the Appalachian mountains in western North Carolina...eastern Tennessee...northern Georgia...and all of West Virginia...expect major amounts of accumulating wet snow with severe and damaging winds in the higher elevations. This is because in the higher elevations...the wind will not be limited by surface friction...and the risk of downed trees and power outages is further increased by blowing wet snow accumulating on foliage. Where blowing snow will create visibility issues...blizzard warnings are in effect. Expect these conditions to be at their worst today when the pressure gradient between the west side of Sandy and the strong central US surface ridge in paragraph P1 will tighten as Sandy pushes westward.

For the southeastern United States...including Florida...Alabama...Georgia...South Carolina...and the piedmont and coastal plain of North Carolina...breezy conditions on the edge of Sandy's circulation may prompt lake wind advisories for small local lakes. This is because the wind over the lakes will not be as limited by land friction. In addition...because Sandy's cool air advection has amplified the paragraph P1 upper trough into a SW-NE tilted feature/upper vortex...western convergence of the tilting upper trough will support an impressive area of dry..sinking air to the south and southwest of Sandy. In fact this impressive dry air mass is already present in the above thermo birdseye chart. In areas covered by this dry air...the combination of breezy conditions and dry grassy land continues to trigger red flag warnings for fire risk.

...MID-LATITUDES DISCUSSION...
P1...Surface frontal system across eastern North America is now entangled with non-tropical gale Sandy. See special update #145A for how Sandy's circulation transformed a fragment of the associated upper trough into an upper vortex located SW of Sandy. Remainder of this upper trough is located across the central US and will slowly push eastward toward Sandy via passing over the Great Lakes. Vast convergence west of this upper trough supports a strong 1028 mb ridge over the central US. The latent heat release of Sandy's large cloud field...coupled with immense low-level warm air advection ahead of Sandy's large circulation...is supporting a large north Atlantic upper anticyclone...which is a merger of the NW and NE Atlantic upper anticyclones mentioned in paragraphs P1 and P2 of discussion #145. The 1035 mb ridge SW of Greenland in paragraph P2 of previous discussion #145 has intensified to a maximum of 1038 mb on the east coast of Canada while supported by mass convergence between the westerlies ahead of the central US upper trough and easterlies streaming from the north Atlantic upper anticyclone.

P2...Deep-layered low pressure system/upper vortex persists in the central Atlantic. At the surface...their continues to be a broad low pressure spin in the low 990s of mb that has whirled into a position beneath the upper vortex. Meanwhile....the non-tropical remnant of Tony has been absorbed by the warm front extending east of the low-990s mb center. The low-990s broad surface low remains stalled between the surface ridging to the south in paragraph P5 and an intensifying 1038 mb ridge to the north mentioned in paragraph P1.

P3...Upper trough in the NE Atlantic appears to have retrograded westward and amplified in relatively lower pressures east of the the north Atlantic upper anticyclone in paragraph P1. The retrogression appears to have occurred thanks to retrograding of the north Atlantic upper anticyclone itself. It appears the north Atlantic upper anticyclone retrograded due to becoming associated with maximal warm air advection of Sandy's low-level circulation...which also is hooking westward.

...TROPICAL BELT DISCUSSION...
P4...Sprawling east-west tropical Atlantic upper anticyclone remains centered just NE of the Lesser Antilles. 24 hrs ago...an upper trough developed in relatively lower pressures east of the anticyclone...and now this upper trough is an upper vortex retrograding SW around the anticyclone. Upper divergence on the NW quad of the upper anticyclone supports a surface trough extending from south of Sandy into the NW Caribbean...as well as a surface trough SE of the Dominican Republic in the eastern Caribbean.

P5...Surface troughing midway between the Cape Verde Islands and the Lesser Antilles in paragraph P5 of the previous discussion persists while sandwiched between a 1013 mb ridge to the west and another 1016 mb ridge to the east. Both ridges appear to be supported by upper convergence on the SE quad of the east-west upper anticyclone mentioned in paragraph P4 above. Interestingly...the aforementioned surface troughing has gained some t-storm activity this evening despite being on what should be the upper convergent SE quad of this upper anticyclone. Will be watching to see if this surface trough/t-storm cluster moves directly under the axis of the upper anticyclone...in which case it would get enhanced upper outflow in all directions and potentially develop into another Atlantic tropical system.
The views of the author are his/her own and do not necessarily represent the position of The Weather Company or its parent, IBM.
Reader Comments
Previous Entries for 2019