2008 Extreme Weather Review
By: Skyepony, 1:04 AM GMT on December 14, 2008
Atlantic~

East Pacific

West Pacific
99W

Indian Ocean

Southern Hemisphere

05S Billy


~~~~~~~~~~~~~~~~~~~~~~~~~~~~~~~~~~~~~~~~~~~
2008 weather in review..nearly 1/4 of a million people died due to extreme weather & earthquakes the most in one year since 2004. It was also the costliest year in both insured & uninsured losses totalling ~$200 billion.

2008 Special Reports (Events, extremes, etc):
Global Hazards and Significant Events

January (Severe winter across China & the Middle East, Severe storms across the Midwestern U.S., Flooding in eastern Australia)

February (Tropical cyclone Ivan, Flooding in the Philippines, Sever storms across the southeastern U.S., Severe storms across eastern Australia)

March (South Australia Heat Wave, Flooding across the south-central U.S., Severe storms across southeastern U.S., Tropical Cyclone Jokwe)

April (Severe storms across the central and southeastern U.S., Severe winter across southern Canada, Typhoon Neoguri)

May (Flooding across the Philippines, Severe storms across the U.S., Typhoon Nargis, Tropical storm Alma)

June (Flooding across southern China, Flooding across the midwestern U.S., Severe storms across the U.S., Typhoon Fengshen)

July (Hurricane Dolly, Typhoon Kalmaegi, Flooding in China, Flooding in eastern Europe)

August (Tropical Storm Fay, Hurricane Gustav, Typhoon Nuri, Flooding in Laos)

September (Hurricane Hanna and Ike, Typhoon Hagupit, Flooding in the Caribbean)

October (Severe storms across New Zealand's North Island, Flooding in Central America, Hurricane Norbert and Omar, Tropical storms Marco and 22W, Tropical Cyclone Rashmi)

November (Severe storms across eastern U.S., Flooding in Philippines, Panama and Vietnam, Hurricane Paloma)

Global temp~ down a little compared to last year.



I'd like to credit most of the review to NCDC




Weather News

'Huge year for natural disasters'
The Sichuan quake was one of several disasters to strike Asia in 2008
The past year has been one of the most devastating ever in terms of natural disasters, one of the world's biggest re-insurance companies has said.

Munich Re said the impact of the disasters was greater than in 2007 in both human and economic terms.

The company suggested climate change was boosting the destructive power of disasters like hurricanes and flooding.

It has called for stricter curbs on emissions to prevent further uncontrollable weather scenarios.

Although there were fewer "loss-producing events" in 2008 than in the previous year, the impact of natural disasters was higher, said Munich Re in its annual assessment.

More than 220,000 people died in events like cyclones, earthquakes and flooding, the most since 2004, the year of the Asian tsunami.

Meanwhile, overall global losses totalled about $200bn (£137bn), with uninsured losses totalling $45bn, about 50% more than in 2007.

Climate change has already started and is very probably contributing to increasingly frequent weather extremes and ensuing natural catastrophes



Nearly 200,000 without power in Michigan


Slide pounds restaurant, Supermarket roof collapses in snowy Spokane, Wash.



~~~~~~~~~~~~~~~~~~~~~~~~~~~~~~~~~~~~~~~~~~~~~~
Garden~
When to plant what in the different areas of Florida.

From the moon calender of the Farmer's Almanac


December 2008
31 Good days for killing weeds, briars and other plant pests, poor for planting.


January 2009
1 A good time to kill plant pests or do plowing. Poor for planting.

2-3 Fine for planting any above ground crop where the climate permits. Extra good for peppers, tomatoes, peas, and other vine crops.

4-5 Barren days. Do no planting.

6-7 Fine for planting beans, peppers, cucumbers, melons, and other above ground crops where climate is suitable.

8-9 Poor days for planting, seeds tend to rot in ground.

10-12 Most fruitful time for planting beets, carrots, onions, and other hardy root crops in the Deep South. Good for starting seedbeds and flowers.





```````````````````````````````````
Local Weather~
tonight~ chilly
Thurs~ windy, cool
Friday~ depends if we get a low on the tail of this front. Looking less likely, can still hope for rain..


NHC Tropical Disscusion

Local text Products
Local Forecast Graphics.

Click to make larger


Local Hazards
Wind & Sea....Rip Current......Flash Flood.......Lightning.......Severe Hail.....Severe Winds.....Tornados





These will update automatically with conditions.
Credit~NWS More East Central FL Graphical Hazard maps & these full size are available there.
Local NWS Hazardous Weather Outlook



Watching for rain & minimum temps..

click maps to go interactive






click maps to make bigger & animate

Surfers & Surge
cool wave watch graphic
NOAA Wave Watch III
Storm surge threat model...Always wondered if or how vulnerable your or friend's place would be to surge? Covers Volusia, Brevard, Indian River, St Lucie & Martin Counties.
Red Tide (FL & TX)


Radar/Satellite/Microwave
Melbourne NEXRAD Radar
NOAA Satellite Services ~ I like the RGB by day, rainbow at night with some Water Vapor thrown in once in a while.
Ramsdis
Good place to keep up with invests.

Models~
Local Meso Model (well it covers most the state)~ lots of informative blue bars, each a different model, above it to click on too. Forecasts weather for the nexr 24 hrs.
FSU Model page
Shear loop .
Comparing different models shear, steering & percipitation loops.

Recon~
NHC Aircraft Reconnaissance
Tropical Atlantic

Click to make maps bigger.

850mb Relitive Vorticity..................300-850mb Steering




HAZARDS



~~~~~~~~~~~~~~~~~~~~~~~~~~~~~~~~~~~~~~~~~~~~~~~~~~~~~~~~~~~



~~~~~~~~~~~~~~~~~~~~~~~~~~~~~~~~~~~~~~~~~~~~~~~~~~~~~~~~~~~
La Nina Update

weekly CPC report is out.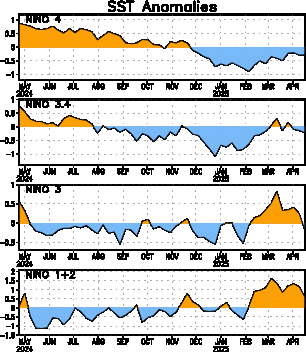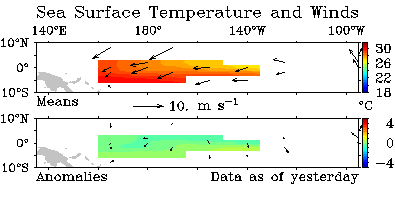 ~~~~~~~~~~~~~~~~~~~~~~~~~~~~~~~~~~~~~~~~~~~~~~~~~~~~~~~~~~~


Create your own visitor map!
~~~~~~~~~~~~~~~~~~~~~~~~~~~~


The views of the author are his/her own and do not necessarily represent the position of The Weather Company or its parent, IBM.
Skyepony's WunderBlog
Previous Entries for 2019