Illegal and legal Immigration - rethinking policy
By: moonlightcowboy, 6:57 AM GMT on December 27, 2007



NEW:

Can you believe this? Read the complete article in post #224.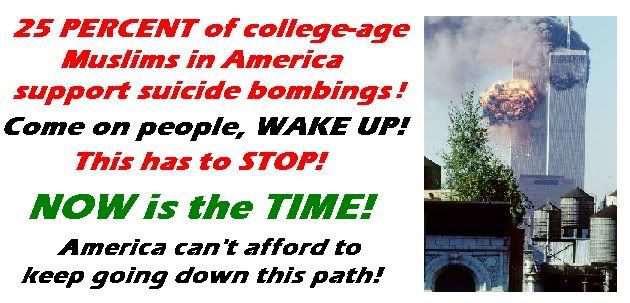 Denying Muslim Visas - complete article. See post #245.





The latest data collected by the Census Bureau shows that the last seven years have been the highest period of immigration in American history. Immigration continues to be the subject of intense national debate. The roughly 1.5 million immigrants arriving each year (1.6 million if you count those missed by the Census Bureau) have a very significant effect on many areas of American life. Immigrants and their young children (under 18) now account for one-fifth of the school-age population, one-fourth of those in poverty, and nearly one-third of those without health insurance, creating enormous challenges for the nation's schools, healthcare system, and physical infrastructure. The low educational attainment of many immigrants, 31 percent of whom have not completed high school, is the primary reason so many live in poverty, use welfare programs, or lack health insurance, not their legal status or an unwillingness to work. A central question for immigration policy is whether we should allow in so many people with little education — increasing job competition for the poorest American workers and the population needing government assistance.

Setting aside the lower socio-economic status of immigrants, no nation has ever attempted to incorporate nearly 38 million newcomers into its society. Whatever one thinks of contemporary immigration, it is critically important to understand that its effect on America represents a choice. Selection criteria can be altered, as can the total number of people allowed into the country legally. Moreover, the level of resources devoted to reducing illegal immigration can also be reduced or increased. With illegal aliens accounting for nearly one in three immigrants, their effect on the nation by themselves is now very large.

The goal of this (blog) has been to provide information about the impact of immigration on American society to better inform the policy discussion about what kind of immigration policy should be adopted in the future. Absent a change in policy, 15 million or more additional legal and illegal immigrants will likely arrive in the next 10 years. Thus immigration's impact will continue to grow if current trends continue.




School-Age Population. In the last few years, a good deal of attention has been focused on the dramatic increase in enrollment experienced by many school districts across the country. All observers agree that this growth has strained the resources of many school districts. While it has been suggested that this increase is the result of the children of baby boomers reaching school age, the so called "baby boom echo," it is clear from the CPS that immigration policy accounts for the dramatic increase in school enrollment. Table 17 shows that there are 10.8 million school-age children of immigrants (ages 5 to 17) in the United States, accounting for 20.2 percent of the total school-age population. While fewer than one-fourth (2.7 million) of these children are immigrants themselves, the use of public education by the U.S.-born children of immigrants is a direct consequence of their parents having been allowed into the country. The children of immigrants account for such a large percentage of the school-age population because a higher proportion of immigrant women are in their childbearing years, and immigrants tend to have somewhat larger families than natives. In addition, the effect of immigration on public schools will be even larger in the coming years because 22.6 percent of children approaching school age have immigrant mothers.

Table 17 also shows that immigration has significantly increased the school-age population in all of the top immigrant-receiving states. Of course, a dramatic increase in enrollment may not create a problem for public education if tax revenue increases proportionately. But as we have seen, immigrants themselves and immigrant households generally have lower incomes than natives, so their tax contributions are unlikely to entirely offset the costs they impose on schools. This is especially true because of the higher costs associated with teaching children whose first language is not English.




Welfare Use. Table 12 shows the percentage of immigrant- and native-headed households in which at least one member of the household uses one or more welfare programs. Cash assistance includes Temporary Assistance to Needy Families (TANF), state administered general assistance, and Supplemental Security Income (SSI), which is for low-income elderly and disabled persons. Food assistance includes food stamps, free school lunch, and the Women Infants and Children nutrition program (WIC). Housing assistance includes subsidized and government-owned housing. Medicaid, the health insurance program for those with low incomes, is also included.





IN ADDITION TO WELFARE: Table 12 shows 17.8 percent of native-headed households have enough dependents and low enough income to qualify for the EITC (Earned Income Tax Credit) and 10.9 percent have low enough incomes to receive the ACTC(Additional Child Tax Credit). This compares to 31.1 and 22.5 percent of immigrant households. For both programs, about twice the share of immigrant households are eligible as are native households. The figures for the EITC and ACTC probably overstate receipt of the programs for both immigrants and natives because they are imputed by the Census Bureau based on income and family size. This is in contrast to the welfare programs listed, which are based on self-reporting by survey respondents.

Given the education level of so many immigrants, it is not surprising that a large share work but that their incomes are low enough to qualify for the EITC. It important to understand the high rate of EITC and ACTC eligibility does not reflect a lack of work on the part of immigrants. In fact, one must work to be eligible for them. Use of the EITC and ACTC mainly reflects a lack of education and resulting low incomes, coupled with the presence of dependents.

All of the above information comes from the Center for Immigration Studies.
--------------------------------------------------------------------------

Definition of EXPONENTIAL: (adjective) expressible or approximately expressible by an exponential function; especially : characterized by or being an extremely rapid increase (as in size or extent)
--------------------------------------------------------------------------

OPINION:

In past weeks there is a term "carrying capacity" I've encountered and though I've been somewhat familiar with this term in various ways, it's taken on a new, broader sense. What is "carrying capacity?"

Well, I realize that the term refers to a grand scale of variables; but, the least not of which (imo) has to do with the American taxpayer carrying the load for an unfettered, exponentially expanding illegal immigrant population growth. The current problem has already degraded our educational system, our welfare system and strained our natural resources.

So, my point here is that, America needs immigration reform, especially illegal immigration reform. America was built by immigrants. Of course, we're all immigrants, unless you happen to be Native American Indian. However, I've paid quite my share of taxes through the years, sometimes exorbitantly! And, while I have little problem with immigrants coming here legally, I'm quite opposed to those coming here illegally. Legals (like me) that work in the system and pay taxes, or receive benefits of the system should be the protocol. New policy should also address the quantity and quality of legal immigration - meaning numbers should be considered, as well as education, health and other concerns. Anything other than that, I consider an act of war - an invasion if you will, an assimilation and theft of our culture and our way of life.

I completely believe in our sovereignty as a Nation under God. And while the US has welcomed what Emma Lazarus coined in 1883 in the

"...Give me your tired, your poor,
Your huddled masses yearning to breathe free,
The wretched refuse of your teeming shore..."

beacon for immigrants entering the US, I'm not sure that the spirit of that is quite the same today as it was many years ago!

As we close another year, and 2008 begins, we Americans have many things to be thankful, for we are truly blessed. But, I know too, that we've endured, worked hard, fought and died for this Republic and we have shouldered much of the world's problems always offering a helping hand. That work can not be forgotten as it should serve as a continuing reminder of the price of freedom. (I am also aware that we have immigrants that are fighting beside our Citizen soldiers even now, and are quite worthy of commendation and forward motion to their own citizenship as far as I'm concerned.)

I doubt seriously if another country in the world would or could endure the immigration of nearly 40 million to their shores as well as the (believed to be) rate of over 1.5 million migrating illegally across our borders each year now!

View the REPORT CARD for your state's delegation to the U.S. Congress on immigration issues. Some REPORT assessments are located between posts #98 and #138.
See how the "Americans for Better Immigration" organization size up the Republican and Democrat 2008 presidential candidates on immigration issues.

Presidential candidates and their immigration views.

North American Union to Replace USA?

NASCO - North America SuperCorridor Coalition




Liberty and Economics (Ludwig von Mises)



.
.....a Cowboy Christmas hope!
By: moonlightcowboy, 4:51 PM GMT on December 02, 2007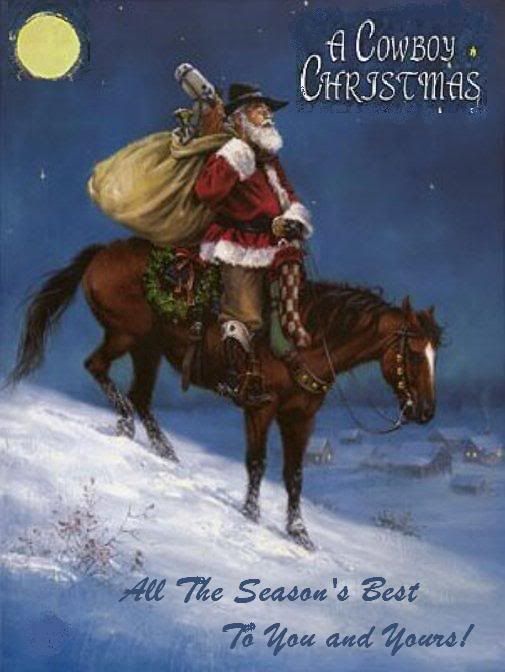 --------> CLICK HERE!

Hey, please click on "Christmas In Dixie" and watch the video all the way through, as there's a special treat at the end! And, when you see it, take a few minutes and think about it, give thanks, and say a special prayer! You'll see what I mean. Thanks in advance for that!





If you'll permit me, I want to take a few minutes and share some "cowboy" with you. When the read is over maybe you can share a smile and a thought. I'd like that, even if you don't post!

So, friends, Christmas is upon us again as another seemingly short year comes to a close. It can be a really joyous time, and should be, for the sole reason of celebrating the birth of Jesus Christ. There's been no better gift than that given in God's promise to send a savior! And while the lights, smells and sounds give us pleasant merriment, Christmas can be a difficult time for many. Some will be dealing with serious personal problems. Others will experience sadness reflecting on past holidays with loved ones that have gone on to be with God.

We'll miss our loved ones that are just simply away from home, but can't be near to hug, hear or even see smile. It's as if we could just get that, it'd be all the Christmas we'd ever need. I love my family and though we're close, we've gotten older and in different directions. There are others that I care for deeply, too. Sure, I'll send cards and I'll trek to the mailbox more often looking for cards and pictures; but, it won't be like being with them. Like others, I'm sure to have melancholy moments and times when a big lump will find my throat and I'm apt to shed a few tears.

For a while all the hustle and bustle of shopping and traveling will keep our hearts and minds busy. Some will be fortunate and get to visit and spend time with loved ones. That time is wonderful and precious. Make the best of it. We'll miss them before they drive out of sight. For some I'll take a turkey or a ham because it's sort of become a tradition. It's not that they necessarily need a turkey; but, that they've gotten rather used to seeing the ham that brings it. I like them to know that someone cares and hasn't forgotten them. Everyone likes to be remembered and I will remember their smiles.

Then it'll happen. It gets quiet. It sets in when the last piece of crumbled paper is in the garbage and the last spoon is in the wash. We do all this decorating, shopping, buying, planning and hustling; then suddenly, NOTHING. The fleeting joy is gone and everyone bustles back on their way home or on to somewhere else. It's all over! Many of us are likely to be alone afterwards and that can be tough. Don't stay that way. It invites trouble and if you'll promise not to be lonesome, so will I. There are things we can do about it.

If you'll take the time to think of someone that may be in need and do something for them, you'll be enriched. It can be a thoughtful gift or simply pleasant company. It really is a matter of letting the Christmas spirit in, and when you do, the beauty of Christmas reveals itself! It will all finally come together and it's very beautiful! Take heart that God loves you, wants and needs you. If we'll follow the Light of Christmas, He'll show us the way and provide for us even when times are dark and lonesome! It's my hope and prayer that God fills your heart with abundant joy these next days and in the coming year!






A Tribute To Soldiers Past and Present - not sure, but it's a very nice salute to our brave.
Rudolph The Red-Nosed Reindeer! - Gene Autry.
If Everyday Was Like Christmas - Elvis. Christmas would not be Christmas for me without songs by Elvis. My mother played them and sang along.
A Charlie Brown Christmas - Bing Crosby (lol).
Silver Bells - Jim Reeves.
Please Come Home For Christmas - Eagles. I guess this is one of my favorites.
Little Drummer Boy - Neil Diamond

You're A Mean One Mr. Grinch - Arthur Ravenscroft (NOTE: This is how my tree is decorated too this year. My daughter found these home-made Grinch ornaments complete with lollipops and Whoville looking things.

Holly Jolly Christmas - Burl Ives
The Christmas Song - Celine Dion
All I Want For Christmas Is You - Vince Vance and the Valliants
Santa Baby - Eartha Kitt
Baby It's Cold Outside - Dolly Parton and Rod Stewart

(more songs later) lol



The views of the author are his/her own and do not necessarily represent the position of The Weather Company or its parent, IBM.
moonlightcowboy's WunderBlog
Previous Entries for 2019
Recommended Links