Tropical Storm Emily (8 PM: August 3, 2011)
By: wolftribe2009, 1:45 AM GMT on August 04, 2011
Well, in light of the confusion. I decided to post a message on what I think Tropical Storm Emily is going to do. I will post a more elaborate blog tomorrow.

Tropical Storm Emily has stalled as of 8 PM. This is the second time that she has stalled in the last week. Forecasters have consistently stated that she was/is to turn WNW or NW but she has refused to do so. She has continued westward and has max winds of 50 MPH. I have continued to state that she would do this when NOAA was forecasting the storm to pass over the Dominican Republic. Below is their latest projected path: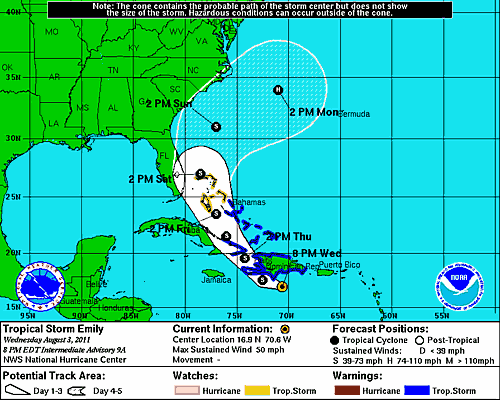 Now let me explain why I am not surprised by Emily.
I did say that Emily would pass near the central islands of the lesser antils (She did). I also said that she would move west of Barhona (Look it up) and that any landfall would NOT be east of there. I also said that it was more likely that anyone stating her location to be in the vicinity of Port-AU-Prince in Haiti would be in the right location. I also stated that my "Red Alert" area would be on Jamica and Eastern Cuba while an "orange" moderate area would be for Haiti/DR
Finally I stated when she was 40 MPH that I expected her to strengthen in the next 12-24 hours (50-60 MPH). We had her strength just 6 hours later to 50 MPH and has remained there ever since.
So that is why I stick to my predictions. I don't care if there is a slight turn (Like Emily was doing when she was going WNW) because I didn't panic because I honestly believed she was going in the right direction and headed right where I said the would. I do not trust NOAA or the models. They change all the time. I look at what we have and make a guess at the best outcome. If I am wrong than I am wrong. No one can be right all the time.
It should be noted that I am NOT noticing the ULAC (Upper Level Anti-Cyclone) ripping off the northern clouds that I was seeing north of Emily earlier yesterday. Convection is growing with Emily and it looks to me like her environment is improving. We might be finally starting to see the "stronger" Emily. She has stayed at 50 MPH but I think she will soon be a hurricane; perhaps in the next 24 hours if she can move just a little further west. The DR would be a problem if she got to close.
SO WHAT IS SHE GOING TO DO???
That is the million dollar question which has been asked by everybody. Yet I would like to go through some "Computer Model" runs and see what they are saying is going to happen.
The HWRF is showing a 992 MB storm raking the Eastern Florida Coast near West Palm Beach (See Below) on Sunday as a Cat 1 Hurricane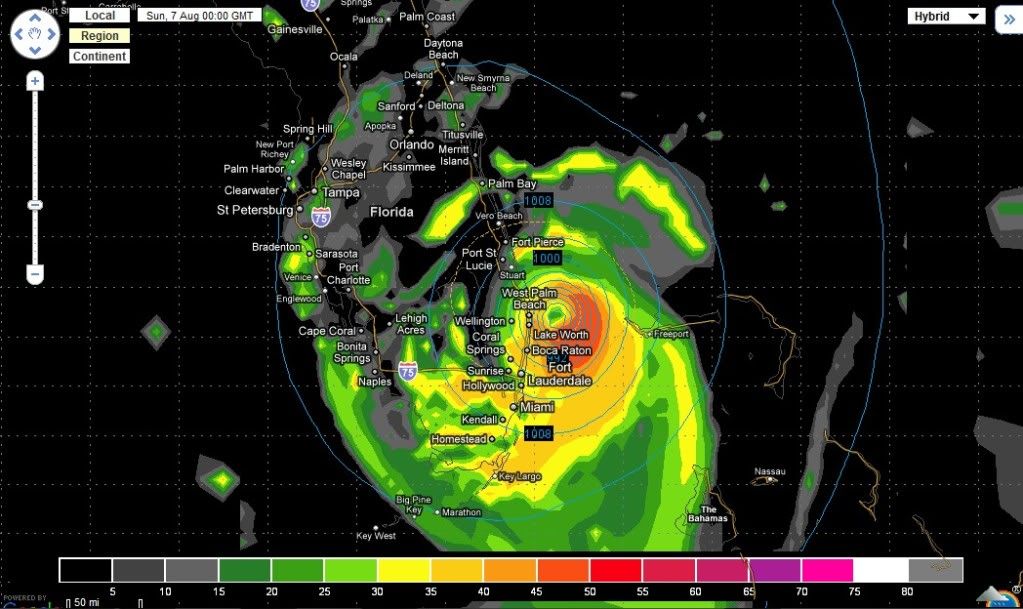 Below is the latest computer model runs for the storm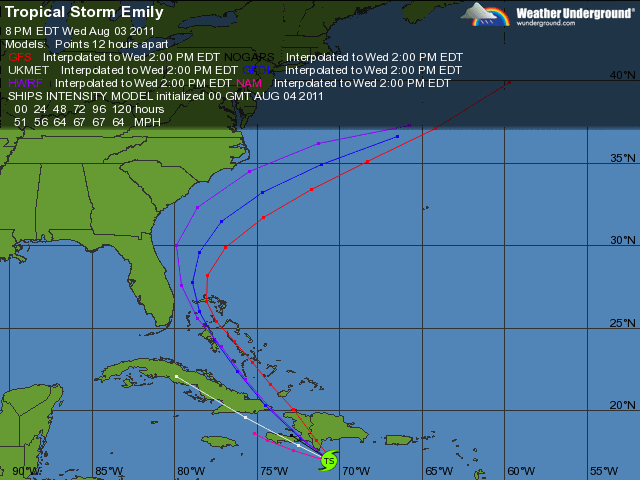 Based on the (Above) computer models; you have to start considering the NAM and UKMET since all the other models keep curving northward. The GFDL has been the closest since Sunday but even that is trying to turn north now. Time to start looking at those western most models runs and throw out the ole "Northward turn models" because Emily has shown that she doesn't wanna turn. That is when you have to start disregarding the models saying she will turn in the next few hours and start looking at the NAM and UKMET which insist that she is going to be the same ole Emily. Ask yourself why they believe she is going to head west?
If you believe the NAM than we have serious trouble cause Emily might just avoid land altogether until she reaches the western Caribbean which would result in a stronger storm; perhaps even a bigger threat to the US if she were to turn up into the GOM.
WHAT DO I THINK EMILY WILL DO?
Well it is really going to be hard to tell. I have stated that we would not know in which direction "Emily" would go until she finally made the turn and got north of the Caribbean near the Bahamas. Problem is, we don't know if she will turn. She could continue westward into the Western Caribbean and enter the Gulf of Mexico. I tend to believe this is very possible given the fact that the storm has refused to turn and has been on a Westward motion than any Northward motion. Most are saying that this is unlikely since the "High Pressure" responsible for all the Texas Heat is parked over the Western Gulf; however, there is a weakness in the East Gulf that could allow the storm to turn up into the GOM.
A second scenario would be for the storm to close in on South Florida after moving north of the East Cuba. Then she would move Westward into the Gulf of Mexico.
A third scenario would be for her to re-curve once she got north of the Caribbean and move up towards the Carolinas. I stated earlier that this would likely be the WORST scenario I could think of right now. That would give the storm plenty of time to take advantage of the warm gulf steam and grow into a big storm. In fact, the models are now showing a possible CAT 2-3 Hurricane getting dangerously close to North Carolina next week. The only problem with this forecast is that I don't feel certain that Emily will re-curve.
I stick to a West or North West movement for the time being. I also feel she will start toi strengthen within the next 24 hours and will be at or near hurricane strength when she nears Florida or Cuba (70-90MPH).

The views of the author are his/her own and do not necessarily represent the position of The Weather Company or its parent, IBM.
Previous Entries for 2019